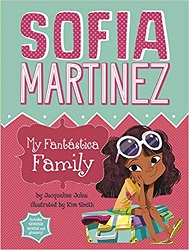 Sofia Martinez
My Fantástica Family
by Jacqueline Jules
illustrated by Kim Smith
Picture Window Books (Capstone), 2017. 96 pages.
Starred Review
Here's a lovely beginning chapter book. There are three stories with three chapters each. There are full color beautiful pictures throughout.
I like the story because it's about a great big family. I have a great big family, and these are rare in children's books. This particular family is Hispanic and they have brown skin. Their speech is peppered with Spanish words (printed in red and defined in the back), but otherwise these are simply fun family stories.
In the first story, the whole big family is going to spend a week at the beach. Sofia decides to pack games instead of very many changes of clothes. (This won my heart right from the start.) When they get a rainy day, Sofia's a hero.
The next story deals with making a Time Capsule for the family – and Sofia's curiosity about it. (I was a little confused and didn't realize they were back home from their trip. But I eventually figured out about there being three separate stories. There's a big title page for each story, so I could have paid more attention to clues like that.)
The final story is about the whole family going shopping for school supplies and the preschool-age cousin getting lost in the store.
Again, this is all done with big colorful pictures, simple language, short chapters, and Sofia's personality shining through. This is a great new heroine for kids ready for chapters.
Find this review on Sonderbooks at: www.sonderbooks.com/Childrens_Fiction/fantastica_family.html
Disclosure: I am an Amazon Affiliate, and will earn a small percentage if you order a book on Amazon after clicking through from my site.
Source: This review is based on a library book from Fairfax County Public Library.
Disclaimer: I am a professional librarian, but I maintain my website and blogs on my own time. The views expressed are solely my own, and in no way represent the official views of my employer or of any committee or group of which I am part.
What did you think of this book?