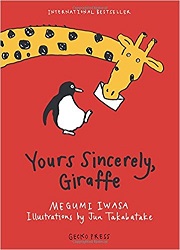 Yours Sincerely, Giraffe
by Megumi Iwasa
illustrated by Jun Takabatake
Gecko Press, 2017. First published in New Zealand in 2016. 102 pages.
Yours Sincerely, Giraffe is a light-hearted chapter book perfect for beginning readers.
Giraffe is bored. When he finds a bored pelican who is starting a delivery service, Giraffe decides to write a letter. He tells Pelican to give it to the first animal you meet on the other side of the horizon. That turns out to be very far away.
But Pelican finds a seal who delivers mail to Penguin. So Giraffe and Penguin start a correspondence.
They don't understand each other terribly well. But how can you expect a penguin whose only companion is a whale to understand what a long neck is?
Giraffe decides that he's going to try to dress up like penguin. He takes all penguin's descriptions and does his best – with very funny results.
This story is good, sweet fun.
Find this review on Sonderbooks at: www.sonderbooks.com/Childrens_Fiction/yours_sincerely_giraffe.html
Disclosure: I am an Amazon Affiliate, and will earn a small percentage if you order a book on Amazon after clicking through from my site.
Source: This review is based on a library book from Fairfax County Public Library.
Disclaimer: I am a professional librarian, but I maintain my website and blogs on my own time. The views expressed are solely my own, and in no way represent the official views of my employer or of any committee or group of which I am part.
What did you think of this book?