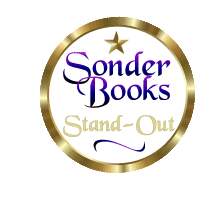 Announcing the 2017 Sonderbooks Stand-outs!
First, let me make it very clear that these are simply my personal favorites out of the books I read during the calendar year of 2017 (not counting advance reader copies of Newbery-eligible books to be published in 2018).
I am not making any claims that these books are more distinguished than the other books I read this year. I am not adjusting the list in any way to increase diversity or make it a better list for people I might recommend books to. No, this is simply a list of the books that stand out in my mind with fondness when I think back over my reading year. As such, it's very personal. Talk with me about which books you might like best!
I like to post my Stand-outs on January 1st of the new year, but didn't quite get to it this year, so I feel a tiny bit behind. My next step will be to post a page for the 2017 Stand-outs on my main website and to put the Sonderbooks Stand-outs seal on all of the review pages for these books. But first, I thought I'd say a little more about them here on the blog. You can follow the links for more detailed reviews.
And just to point out how big the competition was for these books, here are my stats for 2017:
I read 13 novels for adults
48 nonfiction books for adults
22 teen novels
53 children's novels
142 nonfiction books for children (mostly picture books)
573 picture books
11 rereads (not eligible to be stand-outs – most of these were teen novels)
That comes to a grand total of 862 books – but approximately 715 of those were picture books, so only 147 others.
Just think – next year I'm going to *try* to read lots of books!
Children's Fiction
I'll begin with my favorite novel of the year: The Empty Grave, by Jonathan Stroud. Hooray! This was the fifth and final volume of the Lockwood & Co. series, which I've been following for five years. In fact, ALL the volumes in this series have been Sonderbooks Stand-outs, and now numbers 1, 3, and 5 have been #1 in the category of Children's Fiction. It's a wonderful series – one of my all-time favorites – and Jonathan Stroud pulled off an exciting and satisfying conclusion in this book.
That brings me to the category of Children's Fiction. My second choice was Princess Cora and the Crocodile, by Laura Amy Schlitz, illustrated by Brian Floca. I don't often choose an early chapter book – they can be good, but don't tend to stick in my mind. This one, however, hit all the right notes for me. I think of this as a perfectly crafted book. (I know, I'll have to practice explaining in more detail what I love about a book for my Newbery committee service next year. But this isn't a committee – this is just me telling you which books I loved.)
Third in Children's Fiction was The Dragon with the Chocolate Heart, by Stephanie Burgis. I don't have any illusions that this was a perfect book – even I can come up with a few quibbles – but this book just plain made me happy. It was good-hearted, with a happy ending for everyone, and it was a nice twist on the usual fantasy tale. I loved the food magic in that world combined with making chocolate, and I loved the dragon's perspective as a human girl, and I loved Aventurine finding her passion.
My fourth choice in Children's Fiction was The War I Finally Won, by Kimberly Brubaker Bradley, the sequel to my first choice last year. This one, too, had amazing detail and amazing writing. It didn't hit me quite as hard as the first one, when Ada first deals with her life completely changed. But I was so glad to get to spend more time with her, a wonderful resilient character.
Fifth was The Girl Who Drank the Moon, by Kelly Barnhill, last year's Newbery Medal winner. Yes, it was wonderful, and I'm happy that a fantasy book won the medal. I agree that it's distinguished and is carefully and beautifully crafted. It didn't win my heart quite as much as these other books I've listed first, but it was indeed a stand-out for me still.
Sixth I chose Me and Marvin Gardens, by Amy Sarig King, who always has a paranormal element in her books. My co-worker booktalked this one in the schools before our Summer Reading Program, and she convinced me to pick it up, and I was glad I did. It's a warm and friendly look at a kid who discovers a new species – an animal that eats plastic – and the repercussions of that.
Finally, my seventh choice in Children's Fiction was Frogkisser!, by Garth Nix. I'm a big fan of Garth Nix's much more serious works – but this one is just plain silly fun, playing with standard fantasy tropes in amusing way. (For example, I like it that the girls' stepmother isn't evil, she's a botanist.)
Teen Fiction
In Teen Fiction, my favorite novel was Landscape with Invisible Hand, by M. T. Anderson. I think it's even better than his novel Feed, which was my number one Sonderbooks Stand-out in Young Adult and Children's Science Fiction in 2003. M. T. Anderson is good at science fiction that has implications for today's society. This one is also short and compact with no extra words. I thought it was fantastic, and made me think about the downside of remarkable innovation. Can we make sure that all of our society benefits?
My second choice in Teen Fiction was the much anticipated Thick as Thieves, the fifth book by one of my very favorite authors, Megan Whalen Turner. That series, beginning with The Thief, is one of my all-time favorite series. This particular installment doesn't have as much of my favorite characters in it, so wasn't quite my favorite teen fiction of the year. But it's definitely a stand-out, and its publication gave me a great excuse to reread the whole series. (Report: It's still wonderful! I've taken Rereads off my Stand-outs lists, though, because it's not fair to list the same books again and again.)
Third in Teen Fiction is Scythe, by Neal Shusterman, a novel set in a future earth where mankind has conquered death – but still needs to glean some people to keep the planet from being overpopulated. Lots of things to think about in this book, plus a compelling story.
My fourth choice in Teen Fiction is Strange the Dreamer by Laini Taylor. This book is long – but it whiled away the time as I was driving back from seeing the total eclipse in South Carolina. Laini Taylor has an incredible imagination, and her world-building in this book, again, is like nothing I'd seen before.
Fifth was Long Way Down, by Jason Reynolds. To be honest, when I first read this, I was moved, but then it slipped my mind. What really made it stand out was when I listened to the audiobook read by the author a couple months later. I heard the poetry as it was designed to be read, and it made an impact. Now I can't forget what I heard.
I also listened to my sixth Teen Fiction choice, The Hate U Give, by Angie Thomas. This book was about a black girl who goes to high school at a private school in the suburbs. She's coming home from party in her neighborhood, and sees her unarmed friend murdered by a policeman who pulls them over for a broken taillight. Listening to the book I felt like I was hearing Starr tell her own story, and it was heart-wrenching.
Finally, my seventh choice was John Green's latest book, Turtles All the Way Down. His earlier book got us into the head of a teen with cancer. This one helps us understand what it's like to have OCD. Plus I always enjoy listening to John Green's characters talk in their delightfully nerdy ways.
Picture Books
For my favorite picture book of the year, I can't get past The Rooster Who Would Not Be Quiet, by Carmen Agra Deedy, illustrated by Eugene Yelchin. The author read this to those of us at the ALSC preconference on Inauguration Day, the day before the Women's March. Yes, the message in this book is needed – let's not be quiet, despite bullying! But it's also a marvelously and musically told tale. This book works on so many levels.
But my second favorite picture book was The Legend of Rock Paper Scissors, by Drew Dawalt, illustrated by Adam Rex. I had so much fun booktalking it to elementary school classes before the summer started! I can't imagine a more fun book to read aloud. It makes me laugh every time.
On a more thoughtful but joyous note, my third choice is Now, by Antoinette Portis. This picture book makes you think about what you have right this moment and be grateful for it. In fact, while I was reading it, it was my favorite book of all.
Baabwaa and Wooliam, by David Elliott and illustrated by Melissa Sweet, is my fourth Picture Book Stand-out. A sheep who loves to read and a sheep who loves to knit! How could I not love them?
Fifth in Picture Books Stand-outs is The Fox Wish, by Kimiko Aman, illustrated by Komako Sakai. Those old-fashioned pictures and the well-told, magical tale – with a little self-sacrificial kindness coming from the child – won my heart completely.
My sixth Picture Books choice was A Different Pond, by Bao Phi, illustrated by Thi Bui. This is a serious book – an immigrant child going fishing with his father to catch food for dinner. It was the strong affection between the child and his father and the luminous pictures of their nighttime adventures that make it stick in my mind.
Seventh is the Picture Book whose title I love to say – Henny, Penny, Lenny, Denny, and Mike, by Cynthia Rylant, illustrated by Mike Austin. This book is SO FAB! I love to read it aloud and it always makes me smile. It reminds me that a good attitude can go a long way.
And I'm listing eight in Picture Books, because I couldn't bear to leave off The Antlered Ship, by Dashka Slater, illustrated by The Fan Brothers. The pictures are lovely, but what really makes this book stand out for me is the philosophical fox who discovers the best way to find a friend you can talk to.
Children's Nonfiction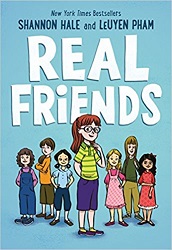 In Children's Nonfiction, for my favorite book, I had to go with Shannon Hale's graphic memoir, Real Friends, drawn by LeUyen Pham. Maybe this was influenced by the sketch LeUyen Pham drew of me when she signed my Advance Reader Copy. But it's also true that I love Shannon Hale's writing – and this was a memoir about an imaginative girl in a large-ish and very religious family. Yes, I related to Shannon's story.
My second choice in Children's Nonfiction is really nonfiction for teens and I actually feel guilty putting it second because it's so amazing and so powerful and has won so many awards. (Remember, this is strictly about ranking my personal favorites.) That book is also a graphic memoir, March, Book Three, by John Lewis and Andrew Aydin, with art by Nate Powell. John Lewis's life wasn't remotely similar to mine – but he made a big difference in the history of our country. This story of trying to change things by using nonviolence against violence is magnificent.
Third in Children's Nonfiction is a completely silly book by comparison – but I loved booktalking this book in the schools so much, I have to mention it. Your Presidential Fantasy Dream Team by Daniel O'Brien, with illustrations by Winston Rowntree, is the funniest – and most memorable – book about the presidents that you'll ever read.
Fourth is Grand Canyon, by Jason Chin. This one is so stunning in its beauty and so wide-ranging in the facts presented, it has to be included.
Fifth in Children's Nonfiction, I chose Dave Eggers' Her Right Foot, which gives interesting facts about the Statue of Liberty – and then draws inspiring conclusions for today from something I'd never noticed before.
Sixth I chose Moto and Me, by Suzi Eszterhas, about her adoption of an orphaned serval in Africa. This one, too, was super fun to booktalk. And that Moto is just so darn cute!
My seventh and final choice in Children's Nonfiction is Dazzle Ships, by Chris Barton, illustrated by Victo Ngai. This one was striking but also surprising. It told a story about World War I that I'd never heard anything about – and the images alone make it memorable.
Now I'll move to books for grown-ups.
Fiction
My favorite novel for adults that I read this year was easy to choose: While Beauty Slept, by Elizabeth Blackwell. Just plain good writing here! I loved this story – an almost straight historical novel playing off the Sleeping Beauty fairy tale.
It was a lot more difficult to rank the rest of the Fiction. But second I decided to go with My Italian Bulldozer, by Alexander McCall Smith. Quirky and cozy, it tells about a man who goes to Italy, and instead of a regular rental car, ends up renting a bulldozer.
Third I chose Provenance, by Ann Leckie. Though I wasn't as crazy about the story of this science fiction novel as in some of her other books, I love Ann Leckie's writing, her world-building, and her unique perspective on the universe.
Fourth in Fiction was The Simplicity of Cider, by Amy E. Reichert. Sometimes I need a nice romantic novel.
Fifth was The Reluctant Queen, by Sarah Beth Durst. This was the second in the series, but it was the one that dealt with a woman in midlife – so it was a little closer to my heart.
Sixth I chose The Shadow Land, by Elizabeth Kostova. If I were choosing by literary merit plus broad appeal, I might have chosen this one first. It's got a mystery, flashbacks to World War II, and a chase across Bulgaria.
My seventh and final choice in Fiction was The Queen of Blood, by Sarah Beth Durst, the predecessor to my #5 pick and an innovative fantasy novel for adults, which I almost always enjoy reading.
General Nonfiction
The General Nonfiction book that most stands out in my mind is A Beautiful, Terrible Thing, by Jen Waite. I related a little bit too much.
My second choice is Born a Crime, by Trevor Noah. I highly recommend listening to the audiobook, which he reads himself – so you can hear all the African words pronounced correctly. Whether or not you agree with Trevor Noah's politics today in America, this mesmerizing story deals with his growing up in South Africa with an African mother and a European father.
Third in General Nonfiction, I chose Hidden Figures, by Margot Lee Shetterly, the book behind the wonderful movie with the same name. A book about black female mathematicians at NASA in the 1940s through 60s. Who knew such a thing could exist and be so packed with information? There were a lot more than the three featured in the movie.
Fourth is a book I read for the sake of my job as a children's librarian, Thirty Million Words: Building a Child's Brain: Tune In, Talk More, Take Turns, by Dana Suskind, M. D. The thirty million words in the title aren't how many words a child needs to hear. They are how many more words a child in a language-rich family hears from their parents than a child in a language-poor family.
And my fifth and final choice in General Nonfiction is Tell Me How It Ends, by Valeria Luiselli, about the author's experiences as a volunteer translator for teen immigrants who didn't want to be deported. This is an eye-opening and deeply troubling book in the age of Trump.
Christian Nonfiction
I read so many Christian Nonfiction books this year that I loved, they get their own category.
My favorite had to be Angels in My Hair, by Lorna Byrne, who has been able to see angels all her life. I loved her perspective and her loving spirit – and her firm conviction that God is working in the world and His messengers personally care about each one of us.
My second choice in Christian Nonfiction is Flames of Love, by Heath Bradley. Yes, this is a book about Universalism – teaching that hell does not last forever, but is designed by a God of love to purify and restore. That, in fact, hell is almost nothing like the popular view of it. The book is well-written and persuasive, and I love to see what I believe laid out so clearly. It makes sense, and it is joyously good news.
Then my third choice takes on the theology of the cross – A More Christlike God: A More Beautiful Gospel, by Bradley Jersak, speaks against theology that implies that Jesus came to save us from God. It presents a lovely view – and shows how it fits with Scripture – that Jesus revealed the Father's love, that God is not mad at us.
Less theological and more personal is my fourth choice, Accidental Saints: Finding God in All the Wrong People, by Nadia Bolz-Weber. It's a book about community and a book about broken people showing each other grace.
My fifth Christian Nonfiction Stand-out is another book on Universalism, Christ Triumphant: Universalism Asserted as the Hope of the Gospel on the Authority of Reason, the Fathers, and Holy Scripture, by Thomas Allin, edited and annotated by Robin A. Parry. This book was written in the nineteenth century and updated for today's readers, but it's still dense reading. What I love about it, though, is that it is extremely thorough in laying out the reason that the heart of the gospel is that Christ will at the end of the ages restore all things, not suffering the defeat of even one soul left suffering in hell. The middle section belabors the point that this is what the followers of Jesus believed for the first five centuries, while they were still mostly native Greek speakers.
Sixth in Christian Nonfiction is Love from Heaven, by Lorna Byrne, the author from Stand-out #1 in this category, the lady who talks with angels. This book isn't so much autobiographical, but applies what she has learned from angels. The main point is to love. And that you are loved. And this book is uplifting and inspiring.
And my final choice, seventh in Christian Nonfiction is The Day the Revolution Began, by N. T. Wright. This one's another look at the theology of the cross. It's another dense read, but got me thinking about Christ's death in new ways.
And that's it! My favorite books among those I read in 2017! My next step will be to make them a page on my main website and mark every review page with my Sonderbooks Stand-outs Seal.
And now my Newbery reading year begins! Next year, I'll make a list of Stand-outs again – but I won't post them until after the Newbery Medal is announced. It will be interesting to see what kind of overlap there is.
Also this coming year, I'm going to be reading lots and lots and lots of American children's books – and I will write reviews of the best ones (before talking with anyone else about them, so you know it's just my opinion), but I won't post any of those reviews until after the Newbery Medal. Fortunately, I have about 200 reviews written that I have not posted yet – so this year I will try to catch up!
Meanwhile, I hope some of my readers try some of my favorite books! Every one of these books is highly recommended!
Happy Reading!