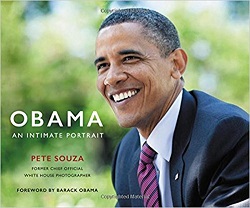 Obama
An Intimate Portrait
by Pete Souza
Former Chief Official White House Photographer
Foreword by Barack Obama
Little, Brown and Company, 2017. 352 pages.
Starred Review
Okay, I'll admit it. I've got a crush on Barack Obama.
However, like so many of my crushes, the biggest thing I admire about him is how much he loves his wife and how dedicated he is to her. At this rate, I'll never fall for someone who's available.
That sort of crush, though, encourages me by reminding me that faithful men who love and are committed to their wives exist. In this case, I'm also reminded that government leaders who honestly care about the people they're serving and are trying to help people do exist. Even though he's out of office, he still gives me hope by providing an example of someone who honestly cared about people and tried to do good things. (I don't always agree as to what will be good – but it was obvious that's what he was seriously trying to do. You can see it in these pictures.)
Okay, he's also a handsome, classy man with a gorgeous family. And he's adorably cute with small children. And not afraid to show emotion. And, yes, I enjoy looking at a book full of pictures of him.
And Pete Souza is an amazing photographer. Barack Obama says about him:
In fact, what makes Pete such an extraordinary photographer, I think, is something more than his ability to frame an interesting moment. It's his capacity to capture the mood, the atmosphere, and the meaning of that moment.
Pete Souza has documented 8 years of history in a powerful and moving way. Here are some of his words from the introduction:
But in the 12 years I've known him, the character of this man has not changed. Deep down, his core is the same. He tells his daughters, "Be kind and be useful." And that tells you a lot about him. As a man. A father. A husband. And yes, as a President of the United States.

This book represents the moments I captured of President Obama throughout his Presidency. The big moments and the small moments. Fun moments. Moments of crisis. Moments of laughter. Moments when I had to hide my own tears behind the viewfinder. Intimate family moments. Symbolic moments and historic moments.

I have had the extraordinary privilege of being the man in the room for eight years, visually documenting President Obama for history. This book is the result of that effort; I gave it my all. I hope that the photographs that follow, accompanied by my words, will show you the true character of this man and the essence of his Presidency, as seen through my eyes and felt through my heart.
Reading this book makes me a little bit sad, yes. But it also gives me hope – still – that it's possible to have dignity and kindness and a servant's heart in the Oval Office. May that day come again.
Find this review on Sonderbooks at: www.sonderbooks.com/Nonfiction/obama.html
Disclosure: I am an Amazon Affiliate, and will earn a small percentage if you order a book on Amazon after clicking through from my site.
Source: This review is based on a library book from Fairfax County Public Library.
Disclaimer: I am a professional librarian, but I maintain my website and blogs on my own time. The views expressed are solely my own, and in no way represent the official views of my employer or of any committee or group of which I am part.
What did you think of this book?