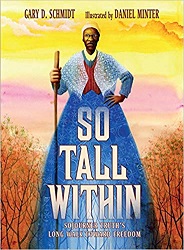 So Tall Within
Sojourner Truth's Long Walk Toward Freedom
by Gary D. Schmidt
illustrated by Daniel Minter
Roaring Brook Press, 2018. 48 pages.
Starred Review
Review written October 2, 2018, from a library book
2018 Sonderbooks Stand-out:
#1 Children's Nonfiction Picture Books
Here's a picture book biography of Sojourner Truth, focusing on how she spoke up for Freedom.
The words used are poetic and the pictures are full of beautiful resonance.
Many spreads have a panel on the left side beginning with "In Slavery Time…" or "In Freedom Time…" along with an image.
For example, the book begins like this:
In Slavery Time, when Hope was a seed waiting to be planted,

Isabella lived in a cellar where the windows never let the sun in and the floorboards never kept the water out.
The book takes us through her many years in slavery, and then the story of how she got her freedom – and sued her former master because he sold her son out of the state of New York.
But in Slavery Time, Broken Promises were like leaves on a tree.
It tells about how she changed her name and began walking around the country speaking about Freedom and Truth.
In Slavery Time, when Tiredness stood at the doorway,

Sojourner Truth walked all the way to Washington, D. C. There she met Abraham Lincoln, and she told him he was "the best president who has ever taken the seat."
But the panels change after emancipation.
In Freedom Time, when Hope kindled a fire in the dark and Happiness winked over the horizon,

Soujourner Truth told an audience in Massachusetts, "Children, I have come here like the rest of you, to hear what I have to say." And what she had to say was plenty.
This book powerfully and poetically portrays a woman who rose from slavery to stand tall and change America.
Find this review on Sonderbooks at: www.sonderbooks.com/Childrens_Nonfiction/so_tall_within.html
Disclosure: I am an Amazon Affiliate, and will earn a small percentage if you order a book on Amazon after clicking through from my site.
Source: This review is based on a library book from Fairfax County Public Library.
Disclaimer: I am a professional librarian, but I maintain my website and blogs on my own time. The views expressed are solely my own, and in no way represent the official views of my employer or of any committee or group of which I am part.
What did you think of this book?