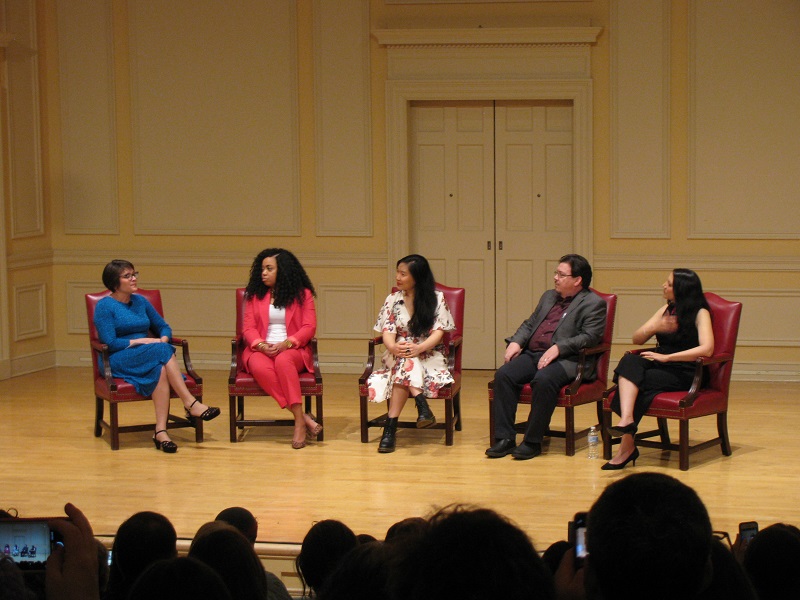 On Friday, March 29, 2019, I got to attend the Walter Awards at the Library of Congress in Washington, DC.
The Walter Awards are named after Walter Dean Myers, and are sponsored by WNDB, weneeddiversebooks.org.
I was familiar with #WeNeedDiverseBooks when it was a hashtag, and was delighted to learn all the organization has been able to accomplish in its five years of existence. They have given sixteen grants to aspiring authors and illustrators, including Angie Thomas, who went on to write the bestselling book The Hate U Give. They have awarded 33 internship grants, and 22 of those recipients have gone on to get full-time jobs in publishing. They have enabled 38 mentorships between upcoming writers and illustrators with veterans, and several of those mentees have secured book deals. They have also donated over 14,000 diverse books to economically disadvantaged schools nationwide.
This is the fourth year of the Walter Awards, and I hope to make attendance at this event an annual experience.
The first event of the morning was a symposium with the theme, "Read. Discover. Grow." Meg Medina was the moderator. She is the author of this year's Newbery Medal winner, Merci Suarez Changes Gears, and she was a big part of why I made the effort to come to the awards. (It was awesome – in the future I will come for the awards alone.)
The panelists were the honor book winners: Tiffany Jackson, author of Monday's Not Coming; Emily X. R. Pan, author of The Astonishing Color of After; David Bowles, author of They Call Me Güero; and Veera Hiranandani, author of The Night Diary (a Newbery Honor book).
Meg Medina began with the question, How did you find this story?
TJ: It was based on her background.
EP: Her grandmother's stories started it. And it spoke about identity and fear. She wrote it several times, with different casts of characters – but the grandmother was always the same.
DB: It was meant to be a collection of poems at first. An editor who read the poems said they wanted 50 more poems in that kid's voice. It took a while, but once he got to know the character, the poems flowed out.
VH: Finding your voice and the character's voice has layers. She was inspired by her own father's experiences but wasn't sure how to access it. She had a boy main character at first, but didn't want to write just her father's story. The diary format was what it took to reach the voice.
MM: How did you decide the form to use?
TJ: It's a series of Befores and Afters. She wanted people to get to know the girls and their relationship. She didn't want Monday to be just another dead girl. She wanted her to live on the page. She also wanted it to be an experience like her character – all over the place.
She originally wrote it in linear format. Then woke up at two in the morning and realized she could rearrange the scenes.
MM: How did your background affect your writing?
TJ: Her background in film made her ready to rearrange the scenes.
EP: "My background is all over the place and so is my book." Her life would be simpler if she could write linearly. When the book was sold, it was more of a fantasy novel.
DB: He was an English teacher for 14 years, then got his doctorate, and now is a university professor. He asked himself, What do teachers need? He had the character experimenting with poetic forms. The editor said it was like a textbook, and he had to rethink his approach.
VH: She's an editor, but not a great line editor – not that detail-oriented. But she is a writing teacher, and doesn't attach herself to any particular draft, because she knows it will change. She is a linear writer. Using a diary format helped her to limit herself – to that character's perspective – and helped keep the writing manageable.
MM: Everything you've done in your whole life makes you a writer.
MM: Talk about how we write about the nuances of our communities.
EP: It's a matter of being honest. When you start out, you try to write the perfect character. That's not actually interesting to read. Put the faults on the page. She had to be willing to delve into things that were difficult to talk about. She tried to capture truth as respectfully as possible. She interviewed lots of people to get more perspectives.
MM: It's important to have humility when we approach our work, even when it's about our own community.
DB: He looks forward to the day when we don't have to talk about diversity. Güero means light-skinned Mexican American. He's the most privileged in his family because of that. He's in the liminal space, neither one nor the other. He looks white, but then he isn't.
VH: She understands the idea of being in between. Her mother is Jewish, born in America, and her father is Hindu from India. She asked herself if she can even do this. She wanted her character to be asking where she belongs. Her whole life, she's been managing multiple identities. She looks and asks, Where can I connect deeply with this story? Then she asks, What research do I need?
TJ: The book is set in southeast DC. Berry Farms is the actual place it's based on – a notorious housing project. There they had gentrification on speed, and the entire community was evicted. She changed the name in order not to put more negative light on the community. There's a delicate balance between perpetuating stereotypes and telling the truth. She can see the beauty in the community, and she wants to get that across.
MM: We feel the weight of our community's dirty laundry.
MM: Let's talk about writing hard, emotional truths for children. What do you ask yourself?
TJ: She's kind of known for gut-punching people. We grossly underestimate what kids can handle. She wants her stories to be raw.
DB: It's dangerous to start off trying to protect the kids. He deliberately tries to tap into raw things. If he doesn't weep during the writing, something's wrong. Be the person who holds the kids' hands and walks with them through the darkness.
EP: She was in a fugue state writing the opening pages. She'd lost her aunt to suicide the year before. When her grandpa died, her parents waited to tell her and when they did, said, "You don't need to be upset." She was trying to grapple with many issues. The first draft was for herself.
She needed to talk about how depression affects the whole family. Later she could think about how to protect the reader. To allow for the safe space. Her book provides a safe space for someone to have something fictional to cry about in place of something real.
MM: Veera, you show violence adults do in full view of children.
VH: When people who lived through Partition talk about "the trains," they mean trains full of corpses. How to show the truth of this history? There's a certain urgency. People who lived through it are now in their 80s and 90s. The true history is so violent. What can kids handle? She tried to make the raw story something they could handle.
MM: What a career this is! What has surprised, delighted, and shocked you about being a writer?
TJ: She thought it was a solo career! She's surprised at how many people she actually has to talk to. At school visits, the kids keep her humble. It's a joyous surprise.
EP: She's perpetually surprised when an Asian-American reader says, "I didn't realize we could do this." She's the first Asian-American author they've seen. That's both good and bad.
DB: He's surprised by how incredibly edifying it is to be part of a community of writers of color. There's solidarity.
VH: It's healing. She's welcomed into so many writing communities. She wasn't sure if she's allowed, being half-Indian. "It's okay being me."
MM: We enjoy the company of people who live in their imaginations. She's so excited to be writing books in the time of these people here.
[Then the audience asked questions.]
Question: How did you find the ending?
TJ: Her book was inspired by real cases, so she knew the ending from the start. She used the real case and worked on making sense of the tragedy. She wants to understand how these things happen.
Question: How did your family react to your book?
EP: My parents haven't finished reading it. My family isn't prepared for how honest I am. She did reach out to her parents and cousins when she began writing it. Her parents had always said, "Don't let people know there's depression in your family." We need to talk about these things. She's always been more vocal than her parents want her to be. But they are now becoming more open, and her mother has said that now she wants to write about their family.
That was the last question, and we had a break before the awards ceremony, which I'll report on soon.