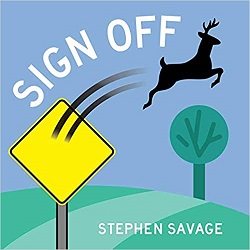 Sign Off
by Stephen Savage
Beach Lane Books, 2019. 52 pages.
Starred Review
Review written May 8, 2019, from a library book
Sign Off is simply fun. Kids notice signs, and this book imagines what the characters on the signs might be up to when we aren't looking.
There are no words in this book. But one by one, we see classic signs. One night, the characters decide to come off their signs. Then they begin working together.
I appreciate the artist's note at the beginning:
The signs in this book are the creation of a number of graphic artists, most notably Roger Cook of the design firm Cook and Shanosky Associates, who came up with the round-headed sign characters in the 1970s. Thank you to all of these artists, known and unknown, for making characters I've loved since childhood.
In this book, they truly are characters. My favorite page shows their expressions of joy after they've carried out their plan together.
This book will spark your child's imagination. After reading it, don't be surprised if they're ready to tell you what the characters on the next sign you see like to do at night.
Find this review on Sonderbooks at: www.sonderbooks.com/Picture_Books/sign_off.html
Disclosure: I am an Amazon Affiliate, and will earn a small percentage if you order a book on Amazon after clicking through from my site.
Disclaimer: I am a professional librarian, but I maintain my website and blogs on my own time. The views expressed are solely my own, and in no way represent the official views of my employer or of any committee or group of which I am part.
What did you think of this book?