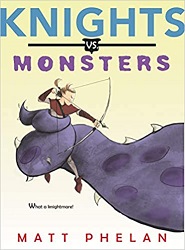 Knights vs. Monsters
by Matt Phelan
Greenwillow Books (HarperCollins), 168 pages.
Review written June 1, 2019, from a library book.
Knights vs. Monsters is a sequel to Knights vs. Dinosaurs, where a band of knights from King Arthur's Round Table brag a little too much about fighting dragons, and Merlin sends them back in time to try their skills against terrible lizards – dinosaurs.
In this book, the same knights are feeling a little bored in Camelot and aren't having much luck searching for the Grail – so when a magic boat appears on a river, they board it and end up on an adventure in the Orkney Isles.
There they find a sorceress, Queen Morgause. She's heard of their exploits, and now conjures up monsters for them to fight every night. All as part of a grand plot that threatens Camelot itself. Can the knights survive against fearsome monsters?
You'll enjoy this a bit more if you've read the first book and met our characters. This will help you appreciate the title of a song a minstrel wrote, "Melancholy the Erstwhile Squire Who Is Now an Accomplished Archer."
This book is a light-hearted diversion taking off from the legends of Arthur. With lots of battling monsters.
mattphelan.com
harpercollinschildrens.com
Find this review on Sonderbooks at: www.sonderbooks.com/Childrens_Fiction/knights_vs_monsters.html
Disclosure: I am an Amazon Affiliate, and will earn a small percentage if you order a book on Amazon after clicking through from my site.
Disclaimer: I am a professional librarian, but I maintain my website and blogs on my own time. The views expressed are solely my own, and in no way represent the official views of my employer or of any committee or group of which I am part.
What did you think of this book?