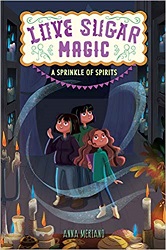 Love Sugar Magic
A Sprinkle of Spirits
by Anna Meriano
Walden Pond Press, 2019. 309 pages.
Starred Review
Review written December 11, 2019, from a library book
2019 Cybils Elementary/Middle Grade Speculative Fiction Finalist
This is the second book in the Love Sugar Magic series, and I liked it even better than the first one. Leo discovered in the first book that she's from a family of brujas and their family magic is concentrated in the things they bake in their bakery. She's been studying the principles of magic to try to keep any more disasters from happening.
But despite Leo's efforts to do everything right, something huge happens – Her abuela comes back to life and shows up in Leo's bedroom. And so do several other once-dead people from the whole town. What's going on? And more important, how can Leo help these spirits in the flesh get back to the other side of the veil before it's too late?
You've got to admit – that's a big problem. I liked the way this book kept the action going and didn't pause with too much soul-searching. We learned more about the family business, and I loved the way Leo was able to turn to her friends for help.
There was a big coincidence with Leo's best friend Caroline, but that coincidence caused a lot of trouble. In books, coincidences that cause trouble are infinitely more palatable than coincidences that solve problems. All the characters gain some depth in this installment, and I am now more convinced that I want to keep reading the series.
Some on our Cybils panel hadn't read the first book, but still enjoyed this one. It's not absolutely necessary to read them in order, though you might as well.
Find this review on Sonderbooks at: www.sonderbooks.com/Childrens_Fiction/sprinkle_of_spirits.html
Disclosure: I am an Amazon Affiliate, and will earn a small percentage if you order a book on Amazon after clicking through from my site.
Disclaimer: I am a professional librarian, but I maintain my website and blogs on my own time. The views expressed are solely my own, and in no way represent the official views of my employer or of any committee or group of which I am part.
What did you think of this book?