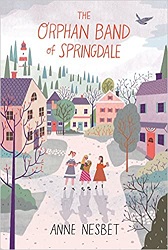 The Orphan Band of Springdale
by Anne Nesbet
Candlewick Press, 2018. 433 pages.
Starred Review
Review written April 25, 2018, from a book sent by the publisher
2018 Sonderbooks Stand-out:
#6 Historical Children's Fiction
Reading The Orphan Band of Springdale made me happy. I liked the main character, Gusta Neubronner, and seeing the world through her eyes was a delightful experience.
The book begins as her father puts her on a bus – and leaves! He told her where to sit and put her suitcase onto the rack above her, and then got off the bus. Instead of getting back on, two men in uniforms came onto the bus looking for him.
The setting of the book is 1941 in Maine. Gusta had lived with her parents in New York City. Her father, who was born in Germany and hated the Nazis, was a union organizer. But anti-German sentiment being what it was, as well as anti-union sentiment, he had become a fugitive. Her mother got a job and couldn't take care of Gusta, so she was sent to her grandmother in Springdale, Maine.
Now, Gusta's mother had told her a story about her grandfather, who built the house in Springdale. He had been a sea captain and found a chest full of real wishes. They looked like coins that sparkled mysteriously. He didn't believe it at first, and made frivolous wishes, which all came true.
"He said that after a day or two, he suddenly realized the seriousness of the situation. These were actual wishes, and he was wasting them. He would pick up one of those odd little coin things and wish for his sardines (for example), and after that, he said, he could tell that Wish was all used up. It didn't sparkle anymore, he said. It just looked empty."

"How can a coin be empty?"

"I don't know. That's how he described it. And of course that made him realize he couldn't keep wasting those Wishes; he needed to think it all through more carefully, make wishes that counted. And then – right that very day – something really terrible happened: the ship he was on hit a reef and sank."
The entire chest with Wishes sank in the sea. But one Wish remained, in his pocket.
"A single Wish," said her mother. "One last Wish left. He kept that Wish safe, and he brought it back home with him. And you know what? He never used it, his whole life long. That's what he told me, anyway, and I knew him when he was very, very old."
He'd put the Wish in a box on a shelf, somewhere in the house. Can Gusta find it while she's there? Can she use it to solve some problems?
And there are some problems while she's there. Her father's a fugitive. She meets her grandmother, who now runs an orphanage, and other relatives, including her uncle, whose hand was injured working in the mill and now needs an expensive operation or he can't work. Gusta knows that the law is on his side, but without a union there, what can one person do?
But the most fun is the oldest girl in the orphanage, Josie, and Gusta's cousin Bess. Gusta has brought her father's French horn with her. When she plays it, she's letting out her heart. Josie has a beautiful voice. Together they form the Honorary Orphan Band of Springdale (Josie being the only one who's an actual orphan).
I laughed delightedly when I read this paragraph when the band finally performs:
They played "Angeline the Baker" and "Hard Times in the Mill" and a couple of cheerful, quick-moving songs they had made up themselves, and it's safe to say no band composed of French horn, ukulele, voice, and bean jar ever had a more enthusiastic reception anywhere.
You'll learn a little history reading this book about life on the home front just before the United States joined World War Two. But mostly you'll have fun reading about some good-hearted characters in difficult circumstances trying to set things right – with or without a Wish.
Find this review on Sonderbooks at: www.sonderbooks.com/Childrens_Fiction/orphan_band_of_springdale.html
Disclosure: I am an Amazon Affiliate, and will earn a small percentage if you order a book on Amazon after clicking through from my site.
Disclaimer: I am a professional librarian, but I maintain my website and blogs on my own time. The views expressed are solely my own, and in no way represent the official views of my employer or of any committee or group of which I am part.
What did you think of this book?