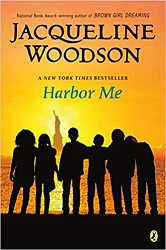 Harbor Me
by Jacqueline Woodson
Nancy Paulsen Books (Penguin), 2018. 176 pages.
Starred Review
Review written August 30, 2018, from a book sent by the publisher
2018 Sonderbooks Stand-out:
#9 Contemporary Children's Fiction
It's unfortunate when you read as many children's books as you can, all put out in the same year, when some of the books lose some of their impact because you've read a similar story already. Harbor Me reminds me of Between the Lines by Nikki Grimes. In both cases, you've got a group of kids from tough backgrounds coming to care about each other as they open up and share their stories. In Just Like Jackie, something similar happens. I'm a little tired of hearing about teachers pulling this off, because I'm starting to be skeptical – but at the same time, personal stories do have a powerful effect.
In the case of Harbor Me, it's a group of six 5th and 6th graders in the same class. Every week, they get to meet for one hour in a room without a teacher and say whatever they want. They learn each other's stories.
It begins with Esteban, whose father was taken away and put in a detention center. Esteban was born in America, but now his mother is afraid she'll be taken, too.
And Haley, our narrator, who's thinking back over the year, has a dad who was in prison. She's lived with her uncle as long as she can remember.
This book isn't poetry, but Jacqueline Woodson has a poet's facility with language. This may also explain why my favorite parts of the book were Esteban's father's poems, which he wrote in the detention center and sent to his son, who translated them into English.
The book feels a little short – I'd like to know more about more of the kids' stories – but it's also refreshing to read a book for 5th graders that's less than 200 pages long. This book is about kids on the margins, and it is short enough that kids on the margins themselves might not be intimidated by it.
The day I read this, I also reviewed Jacqueline Woodson's new picture book, The Day It Begins — which is also about making friends by sharing your stories. We are all different, but we all have things in common. When we hear stories, we can find those things in common. The picture book tells about that, and the novel fleshes it out.
Yes. Let's share stories. And then we'll have people to harbor us when times are hard.
jacquelinewoodson.com
penguin.com/middle-grade
Find this review on Sonderbooks at: www.sonderbooks.com/Childrens_Fiction/harbor_me.html
Disclosure: I am an Amazon Affiliate, and will earn a small percentage if you order a book on Amazon after clicking through from my site.
Source: This review is based on a book sent by the publisher
Disclaimer: I am a professional librarian, but the views expressed are solely my own, and in no way represent the official views of my employer or of any committee or group of which I am part.
What did you think of this book?