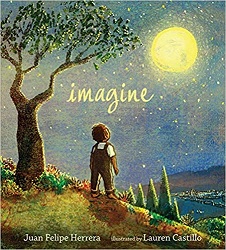 Imagine
by Juan Felipe Herrera
illustrated by Lauren Castillo
Candlewick Press, 2018. 32 pages.
Starred Review
Review written November 2, 2018, from a book sent by the publisher
2018 Sonderbooks Stand-out:
#6 Children's Nonfiction Picture Books
I confess – when I first read this book at the library, I looked through it hastily and wasn't impressed. But when the publisher sent it to my house, I gave it another look, knowing what it was, took my time, and this time was touched by its beauty.
This picture book is an illustrated poem – an autobiographical poem addressed to the reader and intended to inspire.
It's short – I admit that it's easy to dismiss if you don't take your time with it and stop to look at each picture.
Juan Felipe Herrera was Poet Laureate of the United States from 2015 to 2017. This poem shows us his humble beginnings, and his journey to become a poet.
Each stanza ends with the word "imagine" and covers a double-page spread. Here are the first few stanzas:
If I picked chamomile flowers
as a child
in the windy fields and whispered
to their fuzzy faces,

imagine

If I let tadpoles
swim across my hands
in the wavy creek,

imagine

If I jumped up high
into my papi's army truck
and left our village of farmworkers
and waved adios
to my amiguitos,

imagine
You see the boy gradually getting bigger in the pictures. The poetry also talks about his experiences:
If I moved
to the winding city
of tall, bending buildings
and skipped
to a new concrete school
I had never seen,

imagine

If I opened
my classroom's wooden door
not knowing how to read
or
speak in English,

imagine
It takes him through writing stories and poetry, singing in front of people, and finally reading out of his own poetry book in front of the Library of Congress as the Poet Laureate of the United States of America.
And then, finally, the book finishes all the sentences:
imagine what you could do.
Inspiring and beautiful – and there's also a treat under the paper cover! (The stars of the cover are embossed in gold foil on the book with the title.)
Find this review on Sonderbooks at: www.sonderbooks.com/Childrens_Nonfiction/imagine.html
Disclosure: I am an Amazon Affiliate, and will earn a small percentage if you order a book on Amazon after clicking through from my site.
Source: This review is based on a a book sent by the publisher.
Disclaimer: I am a professional librarian, but the views expressed are solely my own, and in no way represent the official views of my employer or of any committee or group of which I am part.
What did you think of this book?