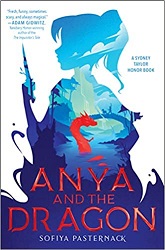 Anya and the Dragon
by Sofiya Pasternack
Versify (Houghton Mifflin Harcourt), 2019. 394 pages.
Review written May 19, 2020, from a library book
Starred Review
2020 Sidney Taylor Book Award Honor, Middle Grade
Anya and her family live in a village in Russia during the time of the tsars. Their family is Jewish, and they're trying to blend in. But Anya's papa has been sent to fight in the wars, and the magistrate says that doesn't give them relief from taxes because they're Jews, so they're likely to lose their house.
Meanwhile, magic has been forbidden by the tsar, but everyone in the village quietly uses magic anyway – except for Anya, who hopes she will discover that she has magic at the time of her bat mizvah.
When the tsar's fool and his family come to their village, the youngest son, Ivan, makes friends with Anya. His father tells Anya that they have come to capture the local dragon and take it to the tsar. He will pay Anya to help them find it, which could solve all their problems.
Is there a dragon in their village? And if Anya hands him over, would she be responsible for his death? Meanwhile, a foreigner has come to the village who is also looking for the dragon. And he's strong and magical and determined not to let anyone stand in his way.
Based on the title, readers won't be surprised when Anya does meet a dragon. But there are many surprises about what the dragon is like.
I like the way this book takes a simple fantasy tale about a magical creature and weaves in thoughts about right and wrong and doing good as Anya is getting ready for her bat mizvah.
I also like Anya's courage, persistence and cleverness as she faces many dangerous mythical creatures as well as a supernaturally strong man who wants to kill her. This story has adventure and danger as well as humorous, kind, and loving characters.
Find this review on Sonderbooks at: www.sonderbooks.com/Childrens_Fiction/anya_and_the_dragon.html
Disclosure: I am an Amazon Affiliate, and will earn a small percentage if you order a book on Amazon after clicking through from my site.
Source: This review is based on a library book from Fairfax County Public Library.
Disclaimer: I am a professional librarian, but the views expressed are solely my own, and in no way represent the official views of my employer or of any committee or group of which I am part.
What did you think of this book?