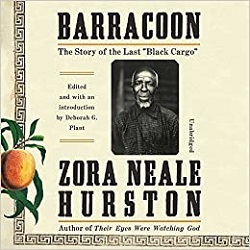 Barracoon
The Story of the Last "Black Cargo"
by Zora Neale Hurston
read by Robin Miles
HarperAudio, 2018. 4 hours, 25 minutes.
Review written August 22, 2020, from a library eaudiobook
A barracoon is an enclosure used to hold people who were abducted and then shipped to America to be enslaved. In 1927, Zora Neale Hurston interviewed Cudjo Lewis, the last living survivor of the last ship that had brought captives from Africa. This book tells his story.
Cudjo Lewis was eighty-six years old in 1927 and had outlived his children and his wife, so his story is a tough one. I did enjoy listening to this rather than reading it, because the narrator Robin Miles did a wonderful job reading his dialect so I could listen to it smoothly, and I think that reading it might have made me stumble. As it was, she captured the character of this old man remembering an eventful life.
The Introduction at the beginning is dry, and I almost gave up, but the narrative once Cudjo starts his story is gripping. He was an older teen when his whole village was slaughtered or abducted in Africa. Then there was a secret voyage across the ocean, since shipping captives from Africa was then illegal. He was enslaved for five years. After they told him he was free, those who had come from Africa were looked down on by the American-born freed people, so they formed their own town and built their own church and school. He wanted to go back to Africa, but it was far too expensive, so he made the best of life in America.
A lot of the book is devoted to what his life was like in Africa. He was not yet considered a man when he was abducted, but he was old enough to remember experiencing his entire childhood in Africa.
The story of his children's deaths is hard to listen to, though at least he had grandchildren left and one daughter-in-law. He was sexton of his church and clearly had a community looking out for him. I like the way he'd tell Zora Neale Hurston to stay away for a few days when he planned to work in his garden. She didn't insert herself into the narrative much, but I did like hearing about them sharing peaches and watermelons together. He appreciated someone listening to his stories – and now you can hear them, too.
Find this review on Sonderbooks at: www.sonderbooks.com/Nonfiction/barracoon.html
Disclosure: I am an Amazon Affiliate, and will earn a small percentage if you order a book on Amazon after clicking through from my site.
Source: This review is based on a library book from Fairfax County Public Library.
Disclaimer: I am a professional librarian, but the views expressed are solely my own, and in no way represent the official views of my employer or of any committee or group of which I am part.
What did you think of this book?