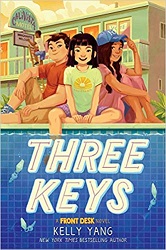 Three Keys
by Kelly Yang
read by Sunny Lu
Scholastic Audiobooks, 2020. 6 hours, 11 minutes, on 5 discs.
Review written April 6, 2021, from a library audiobook
Starred review
Three Keys is a sequel to the wonderful Front Desk, continuing the story of Mia Tang, who immigrated with her parents to California in the 1990s and ended up becoming owners of the motel they were managing.
In this segment of the story, now although they don't have a harsh owner to work for, they still need to manage the motel in ways that will make a profit. The investors give them a hard time if profits are down. Mia learns that her parents have dreams of their own, since her mother was an engineer and her father a medical researcher in China. But now they're busy cleaning rooms.
Meanwhile, the author takes on social issues again, setting the story in 1994, when Governor Pete Wilson was running for reelection and pushing the passage of Prop 187, which would crack down on undocumented immigrants and not allow their children to go to school or for them to receive any services.
I no longer lived in California in 1994, but my family did, so I had a sinking knowledge as I read the book of who would win the election. The book showed some of the hate crimes and strong anti-immigrant sentiment that came out at that time. Meanwhile, Mia's best friend Lupe's parents are undocumented, and her father gets arrested with looming deportation. But Mia is determined to fight it.
Even knowing what would happen with the proposition, this book still managed to be hopeful and show a human face to immigration and make you care about these kids, trying to spread concern for others. They encounter obstacles, but make a difference with many of those obstacles.
Oh, in the author's note at the back, the author does connect the dots between Pete Wilson's campaign in 1994 and Donald Trump's campaign in 2016, and how both stirred up hatred and fear against immigrants. She mentions that Prop 187 was struck down by the courts, but her characters would have been worse off in 2020 than they were in the book world in 1994. She does point out this is a timely topic.
Mia's a character you can't help but love. I hope there will be more books about her and her struggle to make the world a better place, even if it's in small ways.
frontdeskthebook.com
scholastic.com
Find this review on Sonderbooks at: www.sonderbooks.com/Childrens_Fiction/3_keys.html
Disclosure: I am an Amazon Affiliate, and will earn a small percentage if you order a book on Amazon after clicking through from my site.
Disclaimer: I am a professional librarian, but the views expressed are solely my own, and in no way represent the official views of my employer or of any committee or group of which I am part.
What did you think of this book?