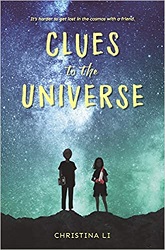 Clues to the Universe
by Christina Li
Quill Tree Books (HarperCollins), 2021. 292 pages.
Review written April 28, 2021, from a library book
Starred Review
Set in the 1980s, after they watched the space shuttle launch together, Ro and her dad were going to build a rocket of their own. But then her dad died in a car accident, but she's determined to launch a rocket anyway. But she also has to start at a new school, because she knows the private school she used to attend is an expense they can no longer afford.
Meanwhile, Benji, whose father walked out on their family years ago, is missing his own best friend, who moved away in the summer. Benji gets assigned to be Ro's science partner, and they need to do a science fair project together. He has to do well in Science, or his mother will make him drop Art in favor of Study Hall.
But because of a folder mix-up, Ro learns that Benji is a fan of the comic Spacebound, and Benji wants to find his dad, who is the author of Spacebound. They make a pact. Benji will help Ro build and launch her rocket for the science fair, and Ro will help Benji find his father.
What follows is a book about life and family and friends and failure and fathers. It's a heart-warming story, with some surprises along the way. This book has the usual challenges of middle school with a little extra heart.
christinaliwrites.com
harpercollinschildrens.com
Find this review on Sonderbooks at: www.sonderbooks.com/Childrens_Fiction/clues_to_the_universe.html
Disclosure: I am an Amazon Affiliate, and will earn a small percentage if you order a book on Amazon after clicking through from my site.
Disclaimer: I am a professional librarian, but the views expressed are solely my own, and in no way represent the official views of my employer or of any committee or group of which I am part.
What did you think of this book?