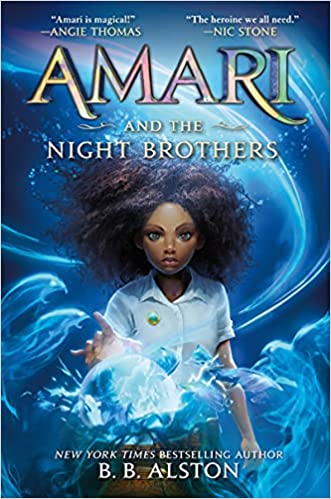 Amari and the Night Brothers
by B. B. Alston
Balzer + Bray, 2021. 408 pages.
Review written January 6, 2022, from a library book
Starred Review
2022 Sonderbooks Stand-out: #5 Children's Speculative Fiction
I thought I was jaded about stories of kids discovering they have magic and getting training with others – but Amari and the Night Brothers delighted me.
Yes, a lot of elements in this book call to mind Harry Potter, but there were enough imaginative elements and interesting characters to make it feel fresh.
As the book opens, Amari's in trouble because she shoved a girl who'd been bullying her. She's going to lose her scholarship. Amari has never fit in at that private school, but she knows she disappointed her Mama. But Amari loses it when kids say that her big brother Quinton is dead. Quinton's been missing for months, but she knows he's not dead.
I used to swear up and down that Quinton was some super-secret spy like James Bond. But he would just give me this little smirk and say, "You're wrong, but you're not totally wrong." Whenever I tried to get more out of him he'd just laugh and promise to tell me when I got older.

See, Quinton is smart smart. He graduated valedictorian from Jefferson Academy and got full scholarship offers from two Ivy League schools. He turned them both down to work for whoever he was working for. When he went missing, I was sure his secret job had something to do with it. Or at least that somebody who worked with him might know what happened. But when we told the detectives about his job they looked at me and Mama like we were crazy.

They had the nerve to tell us that – as far as they could tell – Quinton was unemployed. That there were no tax records to indicate that he ever had a job of any kind. But that just didn't make sense – he'd never lie about something like that. When Mama told them he used to send money home to help out with bills, the detectives suggested that Quinton might be involved in something he didn't want us to know about. Something illegal. That's always what people think when you come from "the Wood," aka the Rosewood low-income housing projects.
So when Amari gets a magical invitation from her brother, she can't help but follow it. She ends up at the Bureau of Supernatural Affairs as a trainee. The Bureau's job is to keep secret all the magical and supernatural creatures and objects from the mundane world.
Amari's brother invited her into that world. She'll train in the summers until she is eighteen, but has to pass tryouts in order to train for a specialty. It turns out that Quinton was a celebrity, along with his partner, Maria Van Helsing, who was from a family ensconced in the supernatural world. Together they had captured the most evil magician of all time. Maria's younger twin siblings are trainees with Amari, but the popular sister looks down on her, just like the kids at the Academy did.
It turns out that Amari, like her brother before her, is assessed with the highest possible potential – a moonstone badge. However, when the Crystal Ball evaluates her talent to enhance one supernaturally, it's revealed to the entire supernatural world that Amari is a Magician, which is illegal.
So Amari's in a familiar situation – people think she's a bad person simply because of who she is. The book is about her quest to find her brother, but also to prove herself and to earn a place in the tryouts. Oh, and all that happens while battling an evil magician with plans for tremendous destruction.
There are lots of fun imaginative details in the supernatural world. I especially love Amari's roommate, who is a weredragon and can read people's emotions. Their supernatural games include Sky Sprints that let them walk through the air and Stun Sticks, which immobilize people and then make them giggle.
There's lots of fun in this fantasy along with saving the world from great evil and a girl everyone underestimates discovering she has enormous potential. I'm looking forward to telling kids about this book.
Find this review on Sonderbooks at: www.sonderbooks.com/Childrens_Fiction/amari_and_the_night_brothers.html
Disclosure: I am an Amazon Affiliate, and will earn a small percentage if you order a book on Amazon after clicking through from my site.
Disclaimer: I am a professional librarian, but the views expressed are solely my own, and in no way represent the official views of my employer or of any committee or group of which I am part.
What did you think of this book?