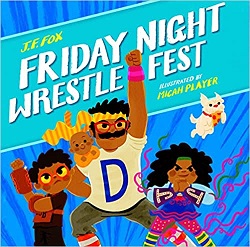 Friday Night Wrestlefest
by J. F. Fox
illustrated by Micah Player
Roaring Brook Press, 2020. 48 pages.
Review written March 31, 2022, from a library book
Starred Review
I met the author of this book at the Highlights Foundation Retreat Center, doing a writers' retreat. I found the book on our library shelves and was completely charmed.
The picture book shows us a Friday night tradition. After a pizza dinner, there's a blocked off "Arena" with lots of cushions and pillows and blankets. A banner declares "FRIDAY NIGHT WRESTLEFEST" with a sign saying "Main Event: Battle to the Bedtime."
In this corner it's — DANGEROUS DADDOO!

He's mad. He's bad.
He's DAD.

Over on the kid crew we have — THE TAG TEAM TWINS. Featuring tthe nutty-by-nature PEANUT BROTHER and the wriggly-giggly JELLYFISH

*with special guest star* . . . BIG BALD BABY!
And then the Wrestlefest begins! All the participants have homemade costumes and specially named moves appropriate to them. (Daddoo's may involve tickling and kissing.) There's a twist in the action coming from MAMA-RAMAAAAAA doing a Flying Mom Bomb. And it all wraps up with a surprise offensive from Big Bald Baby.
And then, like all the best picture books, the story ends with the kids tucked into bed. I like the way the bedtime routine gets wrestle move names, too, like Brush-n-Flush and Book-n-Tuck. The wrestlefest becomes a nestlefest.
It's all got simple language, fun pictures, and big, dramatic action.
What especially made the book fun for me was hearing from the author that this Friday Night Wrestlefest was based on actual Friday nights in their home. Perhaps readers can start their own Friday night tradition!
Find this review on Sonderbooks at: www.sonderbooks.com/Picture_Books/friday_night_wrestlefest.html
Disclosure: I am an Amazon Affiliate, and will earn a small percentage if you order a book on Amazon after clicking through from my site.
Disclaimer: I am a professional librarian, but the views expressed are solely my own, and in no way represent the official views of my employer or of any committee or group of which I am part.
What did you think of this book?