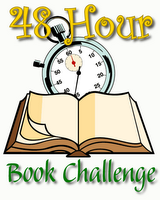 So, it's 10:30 on Saturday night, and I've come halfway through the 48-Hour Book Challenge. I'm having a lot of fun. So far, I wish I could do this longer than 48 hours, because I'm just not getting as many books read as I had hoped to.
I'm ending up spending almost half my time blogging, but I still have only reviewed the two books I finished reading. Still, all four of my related blogs are now upgraded and integrated with the look of my main site. If I hadn't set aside the weekend for reading and blogging, I doubt that would have happened for months! So I'm excited about that and glad for this excuse to spend time on my blogs.
Here are my stats at the halfway point:
Total time spent: 11 1/2 hours
Time reading: 6 hours
Time blogging: 5 1/2 hours
Time networking: None yet (I want to do that!)
Pages read: 646
Books finished: 2
Books reviewed: 2
I'm not sure if I can do as much in the next 24 hours, since I will be going to church in the morning. However, today a big chunk came away from taking a nap and doing all the laundry. So maybe I can do as well. Almost half my time on it seems pretty good! 🙂
I do have to take my son to a meeting for a group project (making a Rube Goldberg machine), which should give me a chance to finish listening to the audiobook of Octavian Nothing, Volume I. I'm on the last disc, and it's an exciting part. That's what I don't like about listening to audiobooks in the car!
Read on!