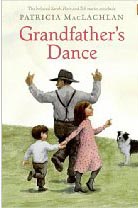 Grandfather's Dance
by Patricia MacLachlan
Joanna Cotler Books (HarperCollins), 2006. 84 pages.
Starred Review
I love Patricia MacLachlan's gentle stories of the Witting family. With simple language, easy for a child first starting chapter books to read, she conveys worlds of emotion and describes the complex bonds of a family.
Anna, who was once the child narrator telling the story of Sarah, Plain and Tall, is now grown up and getting married. Her young half-sister Cassie tells the story of the family coming together to celebrate.
Her little brother Jack is full of toddler quirks and funny expressions and has a special relationship with Grandfather, who is feeling old these days. Cassie wonders about weddings and watches the family come together, with the Aunts arriving from Maine. Papa buys a car, which delights them.
Hmm. When I describe the simple events that happen, it doesn't begin to convey the worlds of emotion that Patricia MacLachlan pours into them.
This is another beautiful installment in a delightful series of historical chapter books. If you haven't read them yet, begin with Sarah, Plain and Tall, and go on to Skylark, Caleb's Story, and More Perfect Than the Moon. If you have read any of the earlier books, you won't need me to persuade you to pick up this newest installment. Although they are simple enough for children beginning to read chapter books on their own, they are profound enough for adults.
Find this review on Sonderbooks at: www.sonderbooks.com/Childrens_Fiction/grandfathers_dance.html