And now, my final category of Sonderbooks Standouts: Picture Books!
This category is difficult, since some great picture books have been sitting around my house for awhile, waiting for me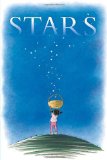 to review them. And I need to compare those to the outstanding picture books I read earlier in the year. I usually am not a big fan of more contemplative books without a story, but somehow I totally fell for Stars, by Mary Lyn Ray, and illustrated by Marla Frazee. I hope it wins the Caldecott Medal this year.
Both Stuck, by Oliver Jeffers, and I Want My Hat Back, by Jon Klassen, are a bit subversive, but both made me laugh out loud, are very well done, and simply have to be included.
And, well, here's my personal list of favorite picture books read in 2011:
1. Stars, by Mary Lyn Ray, illustrated by Marla Frazee
2. Stuck, by Oliver Jeffers
3. Mitchell's License, by Hallie Durand, illustrated by Tony Facile
4. I Want My Hat Back, by Jon Klassen
5. Chalk, by Bill Thomson
6. The Cazuela That the Farm Maiden Stirred, by Samantha R. Vamos, illustrated by Rafael Lopez
7. A Ball for Daisy, by Chris Raschka
8. The Sniffles for Bear, by Bonny Becker, illustrated by Kady MacDonald Denton
Next, I'll try to get a webpage on my main Sonderbooks site for these standouts, add the Standouts seal to their review pages, write the reviews I haven't written yet, and post the reviews I've written but are waiting to be posted. So I'll be staying busy!
Meanwhile, Happy Reading!