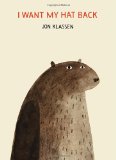 I Want My Hat Back
by Jon Klassen
Candlewick Press, 2011. 36 pages.
Starred Review
2012 Geisel Honor Book
2011 Sonderbooks Stand-out: #4 Picture Books
This book is brilliant. I was happy it won a Geisel Honor for a book for beginning readers, because it's written in a way that makes it easy for beginning readers and tells a story that will delight them when they understand what's happened.
I have a co-worker whose favorite picture books are ones where someone gets eaten. I made sure to bring this book straight to her when I checked it out. I also handed it to my teenage son to read. It's the kind of book everyone enjoys.
The illustrations are simple and flat, with the eyes looking straight at the reader. The text is color coded for the speaker, with a bear walking through the pages looking for his hat. He wants his hat. He loves his hat. Each animal he meets, he asks, "Have you seen my hat?" After their various responses, he says, "OK. Thank you anyway."
Eventually, after he's lying down in despair, a deer asks him what his hat looks like. When he describes it, the bear — and the reader — suddenly remember where he's seen it before. This moment of realization is portrayed so cleverly with a red page and wide open eyes.
Describing this book takes more words than are in the book — and reading the book is so much better. The ending is left ambiguous for the tender-hearted, but most kids will be proud to figure out what really happened. And you have to admit, the bear is repeating what was said to him.
I promise all ages will enjoy this book! Check it out and read it yourself.
Find this review on Sonderbooks at: www.sonderbooks.com/Picture_Books/i_want_my_hat_back.html
Disclosure: I am an Amazon Affiliate, and will earn a small percentage if you order a book on Amazon after clicking through from my site.
Source: This review is based on a library book from the Fairfax County Public Library.