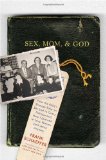 Sex, Mom, & God
How the Bible's Strange Take on Sex Led to Crazy Politics — and How I Learned to Love Women (and Jesus) Anyway
by Frank Schaeffer
Da Capo Press, 2011. 298 pages.
Starred Review
2011 Sonderbooks Stand-out: #4 Biography
Sex, Mom & God continues along the lines of Frank Schaeffer's earlier book, Crazy for God. Frank's parents, Edith and Francis Schaeffer, were my own parents' heroes, and in these books, Frank Schaeffer reveals that his upbringing was even more extreme than my own. Much more, in fact.
Frank Schaeffer has ended up with a theology much more liberal than my own, but I still appreciate his words in this book. Be careful when you revere Scripture so much, you don't stop to think if the God you worship would really be behind what you think Scripture is saying.
I do have a very high respect for the Bible. But I still think we would all do well to listen to Frank Schaeffer's words about any holy Scripture:
'There is another choice: To admit that the best of any religious tradition depends on the choices its adherents make on how to live despite what their holy books "say," not because of them. "But where would that leave me?" my former self would have asked. "I'd be adrift in an ocean of uncertainty." Yes, and perhaps that's the only honest place to be. Another name for uncertainty is humility. No one ever blew up a mosque, church, or abortion clinic after yelling, "I could be wrong."'
The book is also entertaining, though I'm a bit embarrassed to admit it. He tells what his mother told him about sex, her take on what the Bible says about sex, and what he learned for himself. The stories about what his Evangelical culture said about sex still give me a fascinated horror. But what can I say? I really like the perspective he has ended up with in writing this book, somehow laughing at the crazy ideas we humans come up with, yet as his subtitle says, managing to love women and Jesus anyway.
I also love it that he shows so much love and respect toward his Mom, who now has Alzheimer's. He makes it clear that, no matter what her theology, her heart was kind and loving.
A very interesting book, especially for those who grew up Evangelical. I suspect it would also be interesting for those who think that Christians are narrow-minded. Frank Schaeffer definitely does not take a narrow-minded approach himself.
Find this review on Sonderbooks at: www.sonderbooks.com/Nonfiction/sex_mom_and_god.html
Disclosure: I am an Amazon Affiliate, and will earn a small percentage if you order a book on Amazon after clicking through from my site.
Source: This review is based on a library book from the Fairfax County Public Library.