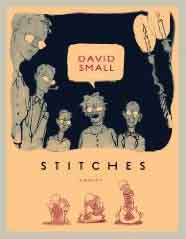 Stitches
A Memoir
by David Small
W. W. Norton & Company, New York, 2009. 329 pages.
It is always poignant when a successful, accomplished adult tells the story of a painful childhood. When the person telling the story is a skilled artist telling the story in graphic form, it has all the more power.
David Small is an award-winning illustrator of picture books for children. His memoir, however, is not for children.
When he was a child, he was given x-ray "therapy" as treatment for a sinus condition. That well-meaning therapy gave him cancer as a teenager, leaving scars both on his skin and on his voice.
The abuse he suffered is all the more poignant in that much of it was well-meaning, and some of it simply neglect. In this powerful graphic memoir, he shows us how the world looked to a little boy and a teen going through difficult things at the hands of those who were supposed to love him.
A moving and memorable story.
Find this review on Sonderbooks at: www.sonderbooks.com/Nonfiction/stitches.html