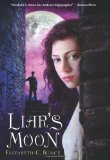 Liar's Moon
by Elizabeth C. Bunce
Arthur A. Levine Books, Scholastic, 2011. 356 pages.
Starred Review
This book is a sequel to Star Crossed, and I liked Elizabeth Bunce's first book, A Curse Dark as Gold so much, I bought my own copy of StarCrossed and Liar's Moon. I did get a chance to reread StarCrossed before I took up Liar's Moon.
I did enjoy Liar's Moon, and there's absolutely no question in my mind that I will snap up the next book. Some details are left very badly hanging, so it's clear this is intended as at least a trilogy.
This is not your typical second-book-of-a-trilogy, though. After narrowly escaping from her home in the city of Gerse in the first book, Digger is back, trying to survive in the underbelly of the city. Right from the start, she's captured and thrown into prison — in a cell with Durrell Decath, whom we met at the very start of StarCrossed, but then didn't see much of.
It turns out that Digger's in prison just to talk with Durrell. He says he's been falsely accused of murder. But if he didn't murder his elderly wife, who did?
If you're expecting a book very similar to StarCrossed (like I was), then you're going to be disappointed. But if you take it for what it is — a murder mystery set in a fantastical world, with our heroine scouring the underworld for clues — then there's lots to enjoy here.
In all her books, Elizabeth Bunce is skilled at making another world seem completely down-to-earth and real.
Now, there's a huge plot development at the very end, so I think I need to reserve judgment on this trilogy until it finishes up and the story is complete. So far, I enjoyed the first book more, but I definitely liked this one enough to want to reread it when the third book comes out. I definitely want to see more of Digger's friends, fighting in the war, and find out how that battle turns out. I don't really understand Digger's relationship with her brother, and that will probably become more clear with time, too.
But meanwhile I highly recommend this series. The first book gave you conflicting loyalties and magic and secrets. This one gives you a murder mystery set in an alien world. Who knows what will be next?
elizabethcbunce.com
thisisteen.com/liarsmoon
scholastic.com
Find this review on Sonderbooks at: www.sonderbooks.com/Teens/liars_moon.html
Disclosure: I am an Amazon Affiliate, and will earn a small percentage if you order a book on Amazon after clicking through from my site.
Source: This review is based on a library book from the Fairfax County Public Library.
Disclaimer: I am a professional librarian, but I write the posts for my website and blogs entirely on my own time. The views expressed are solely my own, and in no way represent the official views of my employer or of any committee or group of which I am part.
There's a lot we could discuss about the ending, so please use the comments if you've read the book and want to discuss spoilers!