Happy New Year!
I like to post my Sonderbooks Stand-outs for the previous year on New Year's Day. However, this year I went to California to see my family on New Year's Day, so I'm not sure how soon I'll get to post them.
You've probably also noticed that I haven't posted any reviews for a couple weeks. Chalk it up to the holiday! I did manage to get reviews written for every book I read in 2013! But I didn't manage to post them all, and now have 35 reviews written and waiting to be posted. Oh well!
Last year, I kept careful track of all the books I read, whether I reviewed them or not, because statistics are fun. So here are my 2013 statistics:
I read 299 picture books, (Ah! If I'd but realized, I would have read one more!)
59 books of children's fiction,
33 books of teen fiction,
24 books of fiction for adults,
73 books of children's nonfiction,
47 books of nonfiction for adults,
and reread 13 books for various levels.
That's a grand total of 548 books read in 2013! Not bad!
But to tide my readers over before I get a chance to post more reviews, here are more Book Spine Poems we posted at the City of Fairfax Regional Library in the month of December:
Here's the one by Carla Pruefer that I promised to get a picture of:
Board Stiff
A Dying Fall
Look Around
Dead Lawyers Tell No Tales
Here's one in the spirit of the season by Karen Jakl: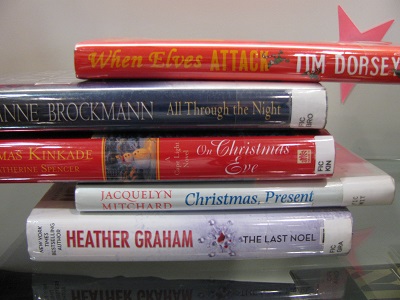 When Elves Attack
All Through the Night
On Christmas Eve
Christmas, Present
The Last Noel
And here's a lovely one by a library volunteer, Lynn Nutwell:
Sailing Alone Around the World
Oh, the Places You'll Go!
Beyond the Blue Horizon
Distant Shores
A Stranger in a Strange Land
Unlikely Friendships
Unexpected Blessings
Here's one I made when the title book was staring at me from a juvenile nonfiction display:
What Do You Do When Something Wants to Eat You?
Run for Your Life
How High Can We Climb?
Way Up High in a Tall Green Tree
Climb or Die
Don't Look Down
Trust Me on This
Perfect Escape
And if I remember right, this next one was written by Lisa Treichler:
Winter
A Glancing Light
Snow Falling on Cedars
All Quiet on the Western Front
Ice Cold
And finally, one I made for my own amusement and wasn't going to post until our Branch Manager urged me to:
What Ever Happened to Baby Jane?
Monsters Eat Whiny Children
Happy 2014!