This month, the person who had reserved the display case had to cancel, so my co-worker Lynne Imre used an idea that Suzanne Levy had suggested from seeing Travis Jonker's 100 Scope Notes blog: Book Spine Poetry!
Lynne started off the display case with this poem about poetry (with the beginning borrowed from one on Travis's blog):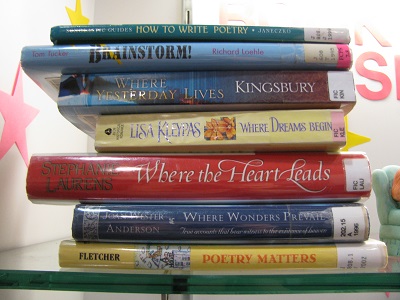 How to Write Poetry
Brainstorm!
Where Yesterday Lives
Where Dreams Begin
Where the Heart Leads
Where Wonders Prevail
Poetry Matters
Here's my contribution, with the last line suggested by my co-worker, Karen Jakl: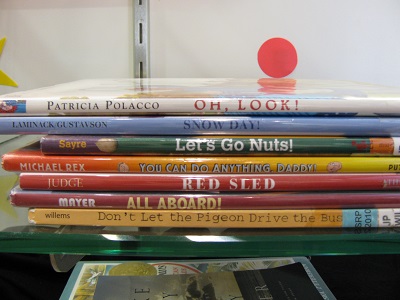 Oh, Look!
Snow Day!
Let's Go Nuts!
You Can Do Anything, Daddy!
Red Sled
All Aboard!
Don't Let the Pigeon Drive the Bus!
Here's another poem I wrote, feeling a little cynical — but it ends happy!
The Liar in Your Life
Lies! Lies!! LIES!!!
Deep Deception 2
Pack of Lies
"I Love You But I Don't Trust You"
You Don't Have to Take It Anymore
Breaking Free
Free from Lies
It's My Life Now
And one more by me: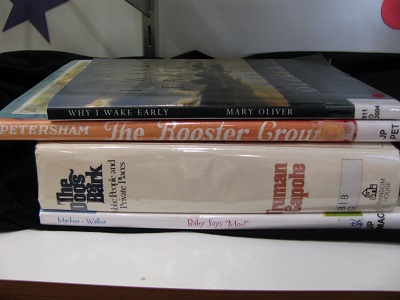 Why I Wake Early
The Rooster Crows
The Dogs Bark
Baby Says "Moo!"
Now come more by Lynne Imre. I especially like this next one:
Cinderella
Four Past Midnight
Runaway
Sweet Dreams
If the Shoe Fits
Now We Can Have a Wedding!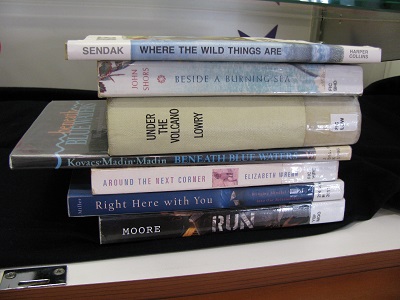 Where the Wild Things Are
Beside a Burning Sea
Under the Volcano
Beneath Blue Waters
Around the Next Corner
Right Here with You
RUN
A Tree Grows in Brooklyn
Outside Your Window
Waiting for Wings
A Home for Bird
Have You Seen Bugs?
What's That Bug?
Insects
The Beatles
Hooray for Fly Guy!
Spider-Man The Venom Factor
Spider Web
I Love Bugs!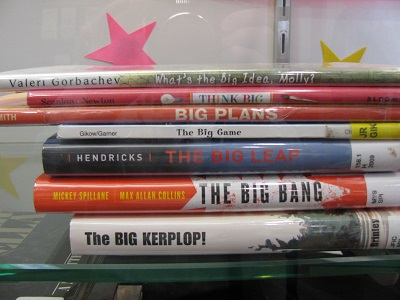 What's the Big Idea, Molly?
Think Big
Big Plans
The Big Game
The Big Leap
The Big Bang
The Big Kerplop!
And here's one by Lisa Treichler. It's a conversation, so I'll use italics for the second speaker.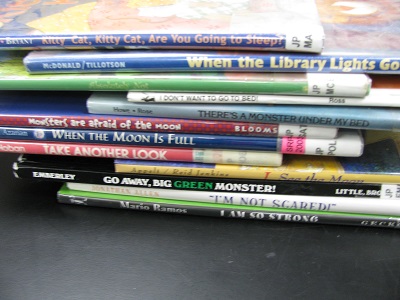 Kitty Cat, Kitty Cat, Are You Going to Sleep?
When the Library Lights Go Out
Absolutely Not
I Don't Want to Go to Bed!
There's a Monster Under my Bed
Monsters Are Afraid of the Moon
When the Moon Is Full
Take Another Look
I See the Moon
Go Away, Big Green Monster!
"I'm Not Scared!"
I Am So Strong.
Another co-worker, Carla Pruefer, made one, but I didn't get a picture. Here are the words:
Board Stiff
A Dying Fall
Look Around
Dead Lawyers Tell No Tales
These are such fun once you get started! We are hoping some library patrons will catch the bug and write some more poems for us to display. Come to City of Fairfax Regional Library and write your own!