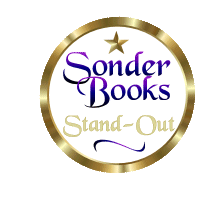 When I posted my 2012 Sonderbooks Stand-outs, it became very clear that I have certain favorite authors. I thought it would be fun to highlight the authors from this year's list whose books have been Sonderbooks Stand-outs before.
Of all the 2012 Stand-out Authors, Sherwood Smith has the second most, with 12 Stand-outs.
I discovered Sherwood Smith when I read her short story in Firebirds. Since Firebirds was a 2003 Sonderbooks Stand-out (#1 for Short Stories), perhaps we should say Sherwood Smith has 13 Stand-outs.

In 2004, I discovered Crown Duel, and I knew I'd found a new favorite author. In fact, I'd put Crown Duel in my top ten favorite books ever. It was a 2004 Sonderbooks Stand-out, My Favorite Book of the Year. In categories, it was #1 in Young Adult Fantasy.
I doubled up on Crown Duel when I reread it in 2009 and named it a 2009 Sonderbooks Stand-out, in the category of Wonderful Rereads.
But in 2004 I naturally read everything of Sherwood Smith's I could get my hands on, so I also read the three books about Wren and named them all Sonderbooks Stand-outs. In fact, they were my only three Stand-outs in Children's Fantasy that year:
#1 Wren to the Rescue
#2 Wren's War
#3 Wren's Quest
I didn't find more Sherwood Smith books to read until 2007, when I read Inda, and named it #4 in Fantasy Fiction. However, that was the year I was completing my MLIS degree and didn't get even all the Stand-outs reviewed. That simply means I have to reread them some time!
In 2009, I started seeing more of her books and devouring them whenever possible. She's a feature on my Sonderbooks Stand-outs lists since then.
2009 Sonderbooks Stand-outs, #7 in Teen Fantasy Fiction was Once a Princess
I remember I read Once a Princess the last week of the year. So naturally the first book I read
in 2010 was also a Stand-out: Twice a Prince was #3 in Teen Fantasy Fiction.
The truth is, I'm almost embarrassed by how romantic I find Sherwood Smith's books. So when, that same year, she published a romance novel for an adult audience, Coronets and Steel, it was #1 in Fiction on my 2010 Sonderbooks Stand-outs.
In 2011, another stand-alone Teen Fantasy, The Trouble With Kings, was #5 on my Sonderbooks Stand-outs list.
And that brings us to last year and my current list of 2012 Sonderbooks Stand-outs.
This time, she appears on both my adult fiction list at #4 for Blood Spirits, the sequel to Coronets and Steel, as well as #2 in Children's Fantasy and Science Fiction for The Spy Princess, which so far is a stand-alone book, but I hope will turn into the first of a series.
Remember Inda, which was a Stand-out, but I never did review? And which I fully intend to reread? Well, Inda turned out to be the first of a four-book series, and, what's more, I own all four books but haven't read them. You see, I bought them when I still hadn't developed a system to force myself to read books I own. I buy books I know I'll love, but then I wouldn't get around to reading them because they didn't have a due date! On top of that, the Inda books are really long, and I'm spoiled by reading lots of young adult books. But now I have a system, and I hope to get to those books this year.
Again, if you missed these books when they first showed up on my lists, that doesn't mean you need to miss them any longer! Sherwood Smith is another Favorite Author I highly recommend!