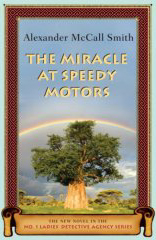 Books, New York, 2008.  214 pages.
Starred Review
I love the No. 1 Ladies' Detective Agency!  This is now the ninth book in the series.  I do recommend starting at the beginning.  You will grow to know and love these characters, adding to the charm of the books.  You will understand exactly why Mma Makutsi's uncle asks a bride price of precisely 97 cows.
I dearly wish I could sit down to a cup of red bush tea with Precious Ramotswe.  (I would never admit that I like black tea better!)  She is a woman of wisdom, peace, and compassion.
Reading this book is the next best thing.
"Mma Ramotswe was right: evil repaid with retribution, with punishment, had achieved half its goal; evil repaid with kindness was shown to be what it really was, a small, petty thing, not something frightening at all, but something pitiable, a paltry affair."
Find this review on the main site at:
www.sonderbooks.com/Fiction/miracle_at_speedy_motors.html