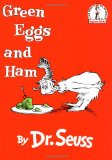 I'm summing up the Author and Illustrator totals from Betsy Bird and School Library Journal's Top 100 Picture Books Poll. I'm doing it slowly, savoring the results, and I'm up to #3. Dr. Seuss is such a stand-by, my only surprise here is that he was beaten by youngster Mo Willems. (Go, Mo! There's no shame in #3, after all. But to beat Dr. Seuss! That really impressed me about Mo. In fact, since Maurice Sendak died after the poll closed, Mo Willems is now the top living Picture Book Author and Illustrator, based on that poll.)
But this is about Dr. Seuss. Dr. Seuss is one of those writers who is such a stand-by, such a basic, you almost don't think of him when you're thinking about top picture books. And he has so many classics, it really spreads out the votes.
Here are his totals:
#3 Picture Book Writer, 349 points, 56 votes
#3 Picture Book Illustrator, 349 points, 56 votes
His books that made the Top 100, with links to Betsy's posts, were:
#12 Green Eggs and Ham, 86 points
#33 The Lorax, 53 points
(Here are my pictures from The Street of the Lifted Lorax at Seussville in Universal Studios.)
#36 The Cat in the Hat, 50 points
#61 How the Grinch Stole Christmas, 30 points, 6 votes
#63 The Sneetches and Other Stories, 30 points, 5 votes
Here's my own review of The Sneetches.
His other books that got votes were:
One Fish Two Fish Red Fish Blue Fish, 17 points
"I figure there has to be a Seuss on my top list, and this is the one that I have the most fun reading aloud." — Stacy Dillon
("From there to here, from here to there, funny things are everywhere.")
The Butter Battle Book, 15 points
"It's hard to pick any Dr. Seuss title, as his entire work should make up the top 40 of any best picture book list. For me though, The Butter Battle Book is an excellent example of both Dr. Seuss' incredible talent with words and his ability to incorporate poignant messages of humanity into his stories." — Owen Gray
"My favorite Seuss, though as a child, I didn't get the full implications. I just remember thinking the increasingly outrageous contraptions were fun. And I have no idea where this comes from, but I have a vague memory of a story about someone asking Dr. Seuss what side of his bread he buttered, and the response was 'The crusts, of course.'" — Sharon Thackston
I Had Trouble in Getting to Solla Sollew, 15 points
("where they never have troubles, at least very few.")
Horton Hatches the Egg, 14 points
("An elephant's faithful, one hundred percent.")
Oh, the Places You'll Go!, 10 points
"Fun for the young; great for graduates! Imagine giving a high school or college graduate a new copy of this book, what would she/he say!" — Dudee Chiang
Fox in Socks, 8 points
"I love to read tongue twisters aloud" — Carol
I'm with Carol! On Read Across America one year, I read Fox in Socks as quickly as I could.
Dr. Seuss's ABC, 8 points
My oldest son learned to identify the letter O from this book at the amazing age of 15 months.
Did I Ever Tell You How Lucky You Are?, 7 points
The 500 Hats of Bartholomew Cubbins, 3 points
"I always prefered Dr. Seuss when he wrote longer form stories, so this was a natural. All the characters are fully realized, as the situation just keeps on getting more ludicrous." — Kyle Wheeler
Happy Birthday to You!, 3 points
("If you weren't you, then you might be a WASN'T. A Wasn't has no fun at all. No he doesn't.")