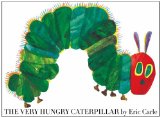 I'm slowly working through the top authors and illustrators from Betsy Bird's Fuse #8 blog Top 100 Picture Books poll. Today we'll feature Eric Carle.
Here are his totals:
#4 Picture Book Author, 278 points, 44 votes
#4 Picture Book Illustrator, 324 points, 53 votes
Though Eric Carle has a plethora of outstanding picture books filling library shelves across the country, most people realized that his spot in this poll would be filled by his classic, The Very Hungry Caterpillar. Betsy had a lovely post about the many manifestations of the famous Caterpillar, #2 in the poll. It's even been a Google doodle!
Three other books solely by Eric Carle received votes:
The Very Busy Spider got 9 points, with a comment from Sue Eilers: "My favorite book to read to babies. The illustrations are wonderful."
Papa, Please Get the Moon for Me got 6 points, and DeeAnn Okamura made the comment, "Another favorite to read to classes. The glorious pull out pages always elicit "oohs and aahs" from the crowd."
The Grouchy Ladybug got 5 points, and Pam Coughlan (Mother Reader) said, "It's hard to pick just one Carle book, but I like doing the grouchy voice when reading it." I like imagining her grouchy voice, myself!
But why, you may ask, did he get so many more points as illustrator than as writer? That's on the strength of the wonderful #38 in the poll, Brown Bear, Brown Bear, What Do You See?, written by Bill Martin, Jr., and illustrated by Eric Carle.
I find I don't have any reviews of Eric Carle books on my website, but I do have a review of one book with a chapter about him, Artist to Artist: 23 Major Illustrators Talk to Children About Their Art. He's the second Living Artist to show up in the poll, and here's hoping his fruitful career will continue for many years to come.