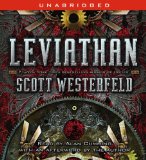 Leviathan
by Scott Westerfeld
read by Alan Cumming
Simon & Schuster Audio, 2009. 7 CDs. 8.5 hours.
Starred Review.
I blame this book for making me late to a meeting last week. I set off in my car, popped the next CD in the player, and got enthralled in the story. I was halfway to my usual workplace when I realized I should have driven to the government center!
I was reluctant to read this book. Even though I liked the series that began with Uglies, and respected the level of the writing and world-building, I'd gotten rather tired of them. It only took a few minutes of listening to Leviathan to realize that this book had an altogether different flavor and that I wouldn't get tired of it any time soon.
Leviathan is in the relatively new steampunk genre, which, as the author explains in a note at the end, combines a vision of the future with an alternate version of the past.
The book tackles the beginning of World War I from the perspectives of a boy in Austria and a girl in Britain. But events unfold very differently than they did in our world.
The boy is Aleksandar, the fictional son of Archduke Franz Ferdinand, whose death sparked the Great War. The book opens with a loyal count and a small company escaping with Alek after his parents' death, because now he is heir to the throne of Austria-Hungary, and the people who killed his father want him dead.
They make their escape in a giant Stormwalker, a powerful war machine created by the German-speaking powers in this alternate world where they had an advanced understanding of technology. Alek had been wanting to learn to pilot one, but he never imagined learning to steer one at night, and in secrecy.
Meanwhile, in England, commoner Deryn Sharp from Glasgow is pretending to be a boy so she can enlist in the Air Corps. However, in her world Darwin changed everything, by not only discovering evolution, but also unlocking the secrets of DNA. Deryn lives in a world of fabricated beasts, living machines that can do anything you can imagine, but that also manufacture their own fuel (using digestion) and heal themselves.
On Deryn's first day in the service, on her solo flight, she gets caught in a storm and manages to save her own neck, but gets picked up by the great airbeast Leviathan. The Leviathan has a crew of hundreds and is a cross between a whale and many other species, with innards that breathe hydrogen to keep it afloat.
The Leviathan is headed for a secret mission in Constantinople and the Ottoman Empire. But war breaks out around them, and Deryn's path crosses with Alek. Can Darwinists work with Clankers to save both sets of lives?
This audiobook is full of exciting escapes and adventures from start to finish. As you would expect in a book involving a world at war, there are many different accents involved, and Alan Cumming does a superb job differentiating the characters by their accents and voices. I found myself starting to exclaim "Barking Spiders!" like Deryn after listening to this book for awhile.
And Scott Westerfeld has a complicated and strange world to present, but he pulls it off beautifully, never letting the action lull as he lets the characters describe their new experiences, such as Deryn flying over a London swarming with fabricated beasts and Alek learning to make a Stormwalker run. Alan Cumming manages to keep the excitement in his voice for the entire audiobook, as there are almost always exciting things going on. I hope he took lots of breaks while recording!
The one thing I didn't like about this book is that it is definitely not a stand-alone story. It ends when they've gotten out of one narrow escape and have revealed some of the secrets, but the story and the war are definitely just beginning. And who knows how long it will be before the next installment comes out? Not fair!
One thing's for sure, when the next book is published, I will want to read it just as soon as it comes out. This one was excellent on audio, but if the audio version doesn't come out the same time as the print version, I may not be able to wait.
Leviathan made fantastic commuting-time listening, except for being too interesting to listen to when I wanted to go somewhere other than my normal workplace. It also was one of those books that made me want to sit in the car in my parking place until I got to a good stopping place — but a good stopping place never came.
Find this review on Sonderbooks at: www.sonderbooks.com/Teens/leviathan.html
Disclosure: I am an Amazon Affiliate, and will earn a small percentage if you order a book on Amazon after clicking through from my site.
Source: This review is based on a library book from the Fairfax County Public Library.