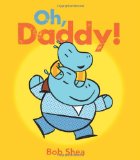 Oh, Daddy!
by Bob Shea
Balzer & Bray (HarperCollinsPublishers), 2010. 32 pages.
Starred Review
Just in time for Father's Day comes this book about a boy (hippo?) and his dad that I would love to read to toddlers any time of year. Alas! I am losing my job, so will not be doing any toddler storytimes any time soon, so I have to settle for urging others to try it. Of course, the very best pair for this book would be a father and child, acting it out as they read, especially the hug at the end.
The book opens up with the boy telling us, "I may be little, but I'm as smart as two eight-year-olds! I'm so smart, I even show my dad how to do things — and he's a grown-up!"
Then he gives examples. When he's getting dressed, Daddy asks him "Is this how you get dressed?" with underwear on his head, oven mitts on his hands, and a pail and a boot on his feet. The smart boy then shows him how it should be done.
Silly Daddy can't seem to get anything right! Any toddler will enjoy Daddy's completely silly attempts.
But there's another level to the book for the adult reader, and probably for the child as he gets older and wiser. In each successive episode, the boy isn't exactly on task. But when Daddy asks his silly questions, like asking if you should get in the car by climbing through the window, the boy quickly focuses to show Daddy how it's done.
The progression is delightful and playful, including an example where the boy teases Daddy back. And it all ends up with Daddy's multiple gyrations in the attempt to give himself a big hug — where he definitely needs his son's help.
This book reminds me of William Steig's Pete's a Pizza, because like that book, it begs to be acted out by a loving parent-child pair. However, I do think it would work well in a toddler storytime, where you could encourage the toddlers to shout "No!" at Daddy's silly attempts. I would like to try this on a child to see at what age they catch on to Daddy's cleverness in motivating his son.
Great fun and delightfully silly!
Find this review on Sonderbooks at: www.sonderbooks.com/Picture_Books/oh_daddy.html
Disclosure: I am an Amazon Affiliate, and will earn a small percentage if you order a book on Amazon after clicking through from my site.
Source: This review is based on a library book from the Fairfax County Public Library.