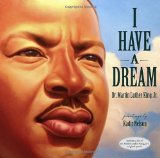 I Have a Dream
by Dr. Martin Luther King, Jr.
paintings by Kadir Nelson
Schwartz & Wade Books, New York, 2012. Text copyright 1963. 36 pages.
Starred Review
2013 Coretta Scott King Illustrator Honor
We all know the speech. Kids will have heard of it. What makes this book stunning is the work of Kadir Nelson put alongside the words of the speech.
Included with the book is a CD of the complete original speech given by Dr. Martin Luther King, Jr., on August 28, 1963, from the steps of the Lincoln Memorial. The full text is also printed in the back of the book.
The bulk of the book consists of the "I have a dream" section of the speech, with a short section of words for each double page spread, and a magnificent painting to go with those words.
More than one painting shows the crowds assembled at the Lincoln Memorial that day, but all are from different angles. When he talks about "the glory of the Lord shall be revealed," there's a breathtaking painting of a sunset. When he talks about the hills, mountains, and Rockies from different parts of America, the paintings show those places, gradually ascending in height. And of course we have a picture of little black boys and black girls joining hands with little white boys and white girls.
Now, this one certainly won't be eligible for a Caldecott Medal, since it's not a picture book so much as an illustrated speech. (I sincerely hope Kadir Nelson will be eligible for another Coretta Scott King Illlustration Award, though.) *Edited to add: This book did win a Coretta Scott King Illustrator Honor. Well-deserved!* Is this book even a children's book?
Well, it's marketed by a children's book publisher and illustrated by a children's book artist. It's definitely suitable for children in every way — but also suitable for adults. I think I may recommend this as a stellar coffee table book. This is a book for drinking in with your eyes, and looking at over and over. I listened to the speech while following along in the book, and I challenge anyone not to be moved by that. This is a stunning achievement.
Find this review on Sonderbooks at: www.sonderbooks.com/Nonfiction/i_have_a_dream.html
Disclosure: I am an Amazon Affiliate, and will earn a small percentage if you order a book on Amazon after clicking through from my site.
Source: This review is based on a library book from the Fairfax County Public Library.
Disclaimer: I am a professional librarian, but I write the posts for my website and blogs entirely on my own time. The views expressed are solely my own, and in no way represent the official views of my employer or of any committee or group of which I am part.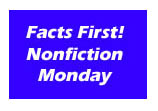 I'm posting this review tonight in honor of Nonfiction Monday, hosted this week by Abby the Librarian.