It's Sonderling Sunday! That time of the week when I play with language by looking at the German translation of children's books. Today, I'm back to the book that started this mad passion — Der Orden der Seltsamen Sonderlinge, The Order of Odd-Fish, by James Kennedy. I fondly hope that you do not have to understand German or have read the book in order to enjoy this series. I simply use the book to find utterly bizarre phrases to translate. Please see if you can find ways to use these phrases, as James Kennedy has so deftly done! Or perhaps you can give readers insight as to interesting ways they might be translated into yet another language? There are many possibilities.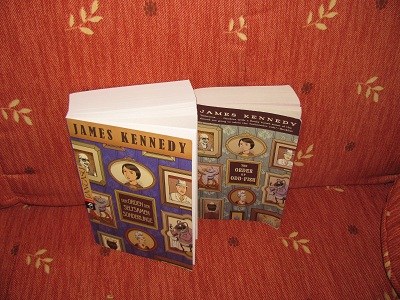 Last time I was in Der Orden der Seltsamen Sonderlinge, I left off on page 128 in English, which is Seite 164 auf Deutsch. Let's look for some interesting sentences. Here's one that is fun to say:
"These gossip-mongers have gone too far!" = Diese Klatschmäuler sind einfach zu weit gegangen! ("These gossip-mouths are simply too far gone!")
"a reckless disregard" = eine rücksichtslose Missachtung ("a hindsight-less mis-attention")
"Chatterbox" = Plaudertasche
"headline" = Schlagzeile ("hitting line")
Oh! They did a marvelous job of translating the alliterative headlines. Let me write out them all for our enjoyment:
"SIMPERING SEFINO SUNK IN SKY-HIGH SKIRMISH" = SCHLUCHZENDER SEFINO STÜRTZT IN SCHARMÜTZEL SCHLUNDWÄRTS (Never mind that it would never fit in a headline, it's alliterative! It translates, roughly, as "Sobbing Sefino crashes in skirmish gullet-ward.")
"KORSAKOV'S COWARDLY COCKROACH CALLOWLY CRINGES, CRIES, IN CATASTROPHIC COMBAT" becomes:
KORSAKOVS KLÄGLICHE KAKERLAKE
KRÜMMT KÖRPER KECKERND,
KREISCHT KATASTROPHALEM KAMPF
This translates back to something like: "Korsakov's pathetic cockroach curves body brazenly, yells in catastrophic war." (I guess it was harder to keep it alliterative.)
And finally:
"INFAMOUS INSECT INDIGNANTLY IRKED IN INSIPID IMBROGLIO"
This becomes:
INFAMES INSEKT IRRITIERT INDISPONIERT IN INFERNALISCHEM INTERMEZZO
That means pretty much what it sounds like ("Infamous insect irritated indisposed in infernal intermezzo"), but hey, they found "I" words that were also German words.
Oh, this paragraph is good! I'll take it in bits:
"ceaseless slanderous scribblings" = unaufhörlichen schmutzigen Schmierereien
"mischievous muckrakers" = schändlichen Schlammwühler (Oh, that is just too fun to say! I may not be correct, but it comes out phonetically (in English phonetics) something like "schendlischen schlahmvooler.")
"ruthless rabble" = rücksichtlosen Rabauken
"no libel… too licentious" = keine Schmähung zu schimpflich
All that great alliteration, then they kind of fall flat with this one:
"no hearsay too hurtful" = kein Gerücht zu vage
And this doesn't quite match the original either:
"to perniciously print in their poppycock periodicals" = um nicht derberweise in ihren dümmlichen Druckerzeugnissen dargestellt zu werden
With this one, they don't even try:
"sneaking slander" = frechen Verleumdungen
This one's pretty good:
"ink-inebriated idlers" = Tinte trunkenen Taugenichtse ("ink-drunken rascals")
I have to say, I wouldn't like to try to translate this stuff. (And I'm curious — Anyone know how to translate this into Spanish? French? Italian? Japanese?)
"a billion-headed beast of babblement" = die milliarden köpfige Bestie der Plappereien
Here we've got a useful word:
"slain" = neidergemetzelt ("massacred")
And here's one of the longest words yet:
"constitutional" = Gesundheitsspaziergänge ("health-pleasure-walk") (23 letters)
Well, that's it for tonight. I didn't get far, but I did finish a section, and there's only one section left in chapter 11. I hope this week I won't encounter any schändlichen Schlammwühler, but if I do, at least I know what to call them!
Next week, I'll be driving my son back to the dorm on Sunday, so I'm not sure I'll get around to Sonderling Sunday, but meanwhile have a herrlich holiday!