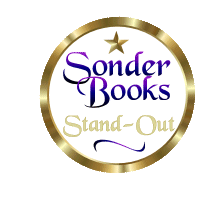 Now let's look at the 2012 Sonderbooks Stand-outs in the category of Picture Books.
This is my biggest category this year. This was one area where taking part in Capitol Choices benefited me. Many, many brilliant picture books were nominated, so I read far more picture books than what I reviewed.
Out of all those books I read this year, here are my favorites:
1. Penny and Her Song, by Kevin Henkes
2. The Duckling Gets a Cookie?! by Mo Willems
3. Z Is for Moose, by Kelly Bingham, illustrated by Paul O. Zelinsky
4. This Is Not My Hat, by Jon Klassen
5. Mom, It's My First Day of Kindergarten! by Hyewon Yum
6. Bink and Gollie: Two for One, by Kate DiCamillo and Alison McGhee, illustrated by Tony Fucile
7. Bear Has a Story to Tell, by Philip C. Stead, illustrated by Erin Stead
8. The Boy Who Cried Ninja, by Alex Latimer
9. Oh No! by Candace Fleming, illustrated by Eric Rohman
10. The Art of Miss Chew, by Patricia Polacco
11. Oh No, George! by Chris Haughton
12. Pete the Cat and His Four Groovy Buttons, by James Dean and Eric Litwin
Looking at trends in the list, it's heavy on books that make me laugh out loud and books that are charming. And reading aloud well is a huge plus. After a year of reading stellar picture books, these all have a special place in my heart.
To be honest, the reason Penny and Her Song firmly has been my favorite picture book of the year since I read it in January had to do with my "theme verse" of the year that I chose for 2012. Part of it goes, "There she will sing as in the days of her youth." So I'd already been remembering back to when I was a little girl, dancing around the house singing. Then I read Penny and Her Song and found a kindred spirit in Penny. And it's a fabulous book for beginning readers. And it's a marvelous story. And I simply love it.
Now, I was extra pleased that the Cybils Beginning Readers panel put both Penny and Her Song and Penny and Her Doll on their list, but I hadn't thought to be so generous, even though I also love Penny and Her Doll.
As for the other books on the list: Well, let's just say that 2012 was a magnificent year for picture books. I will post another review tonight and finish posting reviews of the Stand-outs in the next week or two.
These ones don't take more than a few minutes to read. If you worked with me this year, I probably have already pushed at least one or two at you and urged you to read it. So consider this post me doing that to you virtually.
Happy reading!