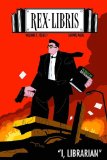 I, Librarian
Rex Libris, Volume 1
by James Turner
SLG Publishing, 2007.
I apologize to my readers, but I do have a soft spot for Super-Hero Librarians. And that's what Rex Libris is all about!
This is a graphic novel of the adventures of the amazing Rex Libris, who travels through the galaxies if someone doesn't return a book. It's incredibly silly, but quite clever, and definitely diverting fun.
The caption at the beginning will give you the idea:
"Welcome, adventurous reader, to the first issue of Rex Libris, Public Librarian. Here you will find, for the first time in print ever, the tumultuous tales of the public library system and its unending battle against the forces of evil. This struggle is not just confined to our terrestrial sphere but extends out into the farthest reaches of the cosmos… and beyond! The librarian has faced patrons so terrible, so horrific, that they cannot be described here without the risk of driving readers mad. But enough prattle and preamble! Settle back with a cup of coffee and a donut (or other pastry if you prefer), and prepare to enter the secret world of…
REX LIBRIS."
The other librarians at the Middleton Public Library are quite interesting, too. I love it when Circe explains to her co-worker:
"Oh, we all mellow with age, dear.
"I'm over 2000 years old. My trouble-making days are long behind me. Wreaking havoc and seducing adventuring heroes is for young people. These days I like to curl up with a good book and a hot cup of tea."
Meanwhile, Rex is taking on space beings in an effort to get back a copy of Principia Mathematica.
Like I said, it's all very silly, but we librarians need to be aware of how we are portrayed in literature, don't we?
Find this review on Sonderbooks at: www.sonderbooks.com/Fiction/rex_libris.html
Disclosure: I am an Amazon Affiliate, and will earn a small percentage if you order a book on Amazon after clicking through from my site.
Source: This review is based on a library book from the Fairfax County Public Library.