I'm highlighting some of my favorite authors by looking at those with 2012 Sonderbooks Stand-outs who've appeared on my lists before. Juliet Marillier is up next, with a total of 6 Sonderbooks Stand-outs.
I first discovered Juliet Marillier in 2008, when I was on the Summer Reading Program committee for Fairfax County Public Library, and I read and loved Wildwood Dancing, a retelling of the fairy tale "Twelve Dancing Princesses." Wildwood Dancing was #2 in Teen Fantasy Fiction in my 2008 Sonderbooks Stand-outs, coming behind only Robin McKinley's Chalice.
But where I really fell in love with Juliet Marillier's writing was after my sister Marcy gave me the first of the Sevenwaters books, Daughter of the Forest, a retelling of the Swan Princes fairy tale, and what a retelling!
You know you love a book when you can remember where you were when you read it. In this case, I was flying to ALA Annual Conference in New Orleans, but unfortunately, the airline made me fly through Boston. I began Daughter of the Forest on the way to Boston. In the airport, I tried using my laptop, and I know I also did some reading, but when I got in the airplane, the book was gone! I was exceedingly upset, and ordered a new copy first thing when I got home. Who knows? If I hadn't lost the book, maybe I wouldn't have given in to my exhaustion and attempted to lean my head against the window and fall asleep. When I woke up, my neck really hurt, and I ended up having a stroke a month later from that neck injury. Wish I hadn't lost the book! (Though it and its sequels made lovely reading during the recovery process.)
Daughter of the Forest was my #1 Fantasy Fiction choice in my 2011 Sonderbooks Stand-outs, and the two other Sevenwaters books I read that year, Son of the Shadows and Child of the Prophecy, were #3 and #5, respectively. (And that was the same year I read The Name of the Wind and The Wise Man's Fear!)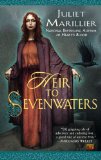 So this past year, in my 2012 Sonderbooks Stand-outs, it's no surprise that Juliet Marillier appears twice. The next Sevenwaters book, Heir to Sevenwaters is again #1 in Fantasy Fiction.
But last year she also began a new Young Adult series. That book, Shadowfell was also a Stand-out, #5 in Teen Fiction. It was one of the last books I read in the year, and I can't help but think I might have ranked it higher if it had time to grow on me. Though probably the biggest reason is that it did *not* tie up the plot in a tidy manner, like her adult books do. So I'm anxious to find out what happens next… and I can't yet!
So Juliet is a relatively new favorite author for me, but she's already high up there. I'm happy that she has many more books out there I haven't read, so I can keep busy while I'm waiting for Shadowfell's sequel.