Yes, February 14 is a very important holiday! It's Cybils Day! The day the Cybils winners are announced! (That must be why the library was empty tonight, right?)
I served on a Round One Panel for Middle Grade Fantasy and Science Fiction, and I have to say that I was very happy about the winner the Round Two Judges picked: The False Prince, by Jennifer Nielsen.
There were a total of four winners that I've read before and loved. (I won't talk about the ones I read and didn't love, but most are going on my TBR list.) Those read-and-reviewed books were:
Seraphina in Young Adult Fantasy and Science Fiction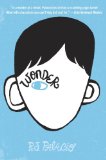 Wonder in Middle Grade Fiction
Bomb in Nonfiction for Tweens and Teens
I realized I never did highlight the Cybils Finalists I've already reviewed. Of course, the most are in Middle Grade Fantasy and Science Fiction:
Beswitched, by Kate Saunders
Geeks, Girls, and Secret Identities, by Mike Jung
The Cabinet of Earths, by Anne Nesbet
The Last Dragonslayer, by Jasper Fforde
The One and Only Ivan, by Katherine Applegate
There weren't as many in Young Adult Fantasy and Science Fiction, but, besides Seraphina, I have read these:
The Drowned Cities, by Paolo Bacigalupi
Vessel, by Sarah Beth Durst
I had three in Easy Readers:
Bink and Gollie: Two for One, by Kate DiCamillo and Alison McGhee, illustrated by Tony Facile
Penny and Her Song, by Kevin Henkes
Penny and Her Doll, by Kevin Henkes
Two more (besides Wonder) in Middle Grade Fiction:
Liar and Spy, by Rebecca Stead
The Lions of Little Rock, by Kristin Levine
Three more (besides Bomb) in Nonfiction for Tweens and Teens:
Moonbird, by Phillip Hoose
Temple Grandin, by Sy Montgomery
Titanic: Voices from the Disaster, by Deborah Hopkinson
One in Nonfiction Picture Books:
Balloons Over Broadway, by Melissa Sweet
One in Young Adult Graphic Novels:
Drama, by Raina Telgemeier
And one in Young Adult Fiction:
Code Name Verity, by Elizabeth Wein
There you have it! It was a good year for books for children and young adults! And trust me, the other Finalists and Winners are going straight onto my TBR lists. I have to say about the Cybils, those lists are a wonderful place to look for Readers' Advisory, since they have quality books with kid appeal in so many different categories.