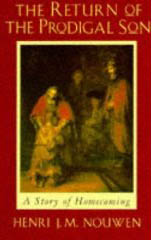 The Return of the Prodigal Son
A Story of Homecoming
by Henri J. M. Nouwen
Image Books (Doubleday), New York, 1992.  139 pages.
Starred Review
This book is not quite like any other devotional book I have read.  The focus and structure of the book involves the author's encounter with a painting:  Rembrandt's The Return of the Prodigal Son.  This painting, of course, presents a story from the Bible, in a way that gives the characters new life.
Henri Nouwen first saw a poster of the painting, then the painting itself, at the Hermitage in Saint Petersburg.  He says, "A seemingly insignificant encounter with a poster presenting a detail of Rembrandt's The Return of the Prodigal Son set in motion a long spiritual adventure that brought me to a new understanding of my vocation and offered me new strength to live it.  At the heart of this adventure is a seventeenth-century painting and its artist, a first-century parable and its author, and a twentieth-century person in search of life's meaning."
He tells about his own encounters with the painting and what it meant in his life.  He writes about what the painting must have meant in Rembrandt's life.  And he talks about how we have the opportunity to stand in the place of each character in the painting.
All that I have lived since my first encounter with the Rembrandt poster has not only given me the inspiration to write this book, but also suggested its structure.  I will first reflect upon the younger son, then upon the elder son, and ultimately upon the father.  For, indeed, I am the younger son; I am the elder son; and I am on my way to becoming the father.  And for you who will make this spiritual journey with me, I hope and pray that you too will discover within yourselves not only the lost children of God, but also the compassionate mother and father that is God.
The result is a beautiful and inspiring book with thoughts that will stay with you.
Here are some passages that stood out for me:
http://sonderbooks.com/sonderquotes/?s=nouwen+prodigal
Find this review on the main site at:
www.sonderbooks.com/Nonfiction/return_of_the_prodigal_son.html