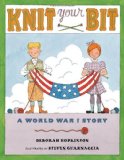 Knit Your Bit
A World War I Story
by Deborah Hopkinson
illustrated by Steven Guarnaccia
G. P. Putnam's Sons, 2013. 32 pages.
Knit Your Bit is a historical fiction picture book. It's based on the effort made by the American Red Cross during World War I to have people across the country "knit your bit" to provide soldiers in the trenches with warm clothes to get through the winter.
The picture book looks at a boy named Mikey and his sister Ellie. Their father has gone to war. Ellie decides right away to learn to knit for Pop, but Mikey thinks knitting is for girls. However, with the announcement of a Knitting Bee in Central Park and the girls saying that the boys are scared to learn, Mikey and two friends form a Boys' Knitting Brigade to try to beat the girls.
The historical aspect of this picture book makes it extra interesting. I love the photos on the endpapers from actual World War I knitting groups, and the sheep that President Wilson kept on the White House lawn. An Author's Note at the end gives more details, including a song that ends like this:
We are knitting for the boys over there;
It's a sock or a sweater, or even better,
To do your bit and knit a square.
Find this review on Sonderbooks at: www.sonderbooks.com/Picture_Books/knit_your_bit.html
Disclosure: I am an Amazon Affiliate, and will earn a small percentage if you order a book on Amazon after clicking through from my site.
Source: This review is based on a library book from Fairfax County Public Library.
Disclaimer: I am a professional librarian, but I maintain my website and blogs on my own time. The views expressed are solely my own, and in no way represent the official views of my employer or of any committee or group of which I am part.