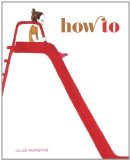 How To
By Julie Morstad
Simply Read Books, 2013. 44 pages.
This picture book reminds me of the classic A Hole Is to Dig, by Ruth Krauss, and illustrated by Maurice Sendak. Like A Hole Is to Dig, it looks at everyday things from a child's perspective, thus making them exceptional.
The text alone doesn't convey the magic of this book. Each page begins with the words "how to." We have "how to go fast," "how to go slow," "how to see the wind," "how to feel the breeze," "how to be a mermaid," "how to make new friends," "how to stay close," "how to disappear," "how to wonder," and so much more.
The illustrations are old-fashioned and simple, but so imaginative. On the "how to stay close" page, two girls have braided their hair together. On the "how to make a sandwich" page, kids are lying on top of each other, layered with comforters. On the "how to be faraway" page, a kid is up in a tree.
The book finishes up with exuberant "how to be happy" spreads of children dancing. They forget to mention another way: reading this book!
Find this review on Sonderbooks at: www.sonderbooks.com/Picture_Books/how_to.html
Disclosure: I am an Amazon Affiliate, and will earn a small percentage if you order a book on Amazon after clicking through from my site.
Source: This review is based on a library book from Fairfax County Public Library.
Disclaimer: I am a professional librarian, but I maintain my website and blogs on my own time. The views expressed are solely my own, and in no way represent the official views of my employer or of any committee or group of which I am part.