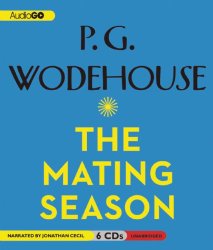 The Mating Season
by P. G. Wodehouse
narrated by Jonathan Cecil
Sound Library (AudioGO), 1992. 6 hrs 51 min on 6 CDs.
Starred Review
I keep exclaiming on how much fun Jeeves & Wooster CDs are to listen to in the car. This one had delightfully absurd situations.
Bertie's Aunt Dahlia has asked him to visit Deverill Hall, and he dare not disobey. He is to participate in a concert in the village, which is being organized by the vicar's niece, Bertie's good friend Corkie, who is also a Hollywood star. Meanwhile, Gussie Fink-Nottle has been told to visit Deverill Hall by his fiancé, Madeleine Basset. Living at the hall is Esmond Haddock and his five aunts.
As if that situation alone weren't enough, Bertie ends up going to Deverill Hall pretending to be Gussie, and Gussie comes later, pretending to be Bertie. Once at the hall, romances are all tangled up. Corkie loves Esmond, but he is too cowed by his aunts. Gussie falls for Corkie, which puts Bertie in peril of being engaged to Madeleine Basset. And Corkie's brother, Catsmeat, is in love with Gertrude Wentworth, a daughter of one of Esmond's aunts. But Catsmeat fears that Gertrude is falling for Esmond, who is trying to make Corkie jealous.
As usual, there's a grand comical mess, and only Jeeves can possibly hope to straighten it all out. Along the way, we get to hear Bertie's hilarious understatements and apt similes all told in Jonathan Cecil's wonderfully versatile British accent. He's consistent in using different voices for each of the many characters, so you can tell who is speaking by just listening to his voice. A marvelously entertaining audiobook.
Find this review on Sonderbooks at: www.sonderbooks.com/Fiction/mating_season.html
Disclosure: I am an Amazon Affiliate, and will earn a small percentage if you order a book on Amazon after clicking through from my site.
Source: This review is based on a library audiobook from Fairfax County Public Library.
Disclaimer: I am a professional librarian, but I maintain my website and blogs on my own time. The views expressed are solely my own, and in no way represent the official views of my employer or of any committee or group of which I am part.
Please use the comments if you've read the book and want to discuss spoilers!