School Library Journal's Battle of the Books is almost finished! On Monday the Undead Poll winner will be announced, and on Tuesday will be the Big Kahuna Round!
The books remaining are not ones I even wanted to win the first round! However, I loved what judge Robin LaFevers had to say today:
The more important truth is this: While I was forced to pick just one of these books, you don't have to. Anyone who reads both of them will be the true winner.

This is true of all sixteen books in this year's battle. They were all outstanding books. If you haven't already, go back and read what the judges have to say about them — then get those books read! You will be delighted!
Now, what are my hopes for the Final Round? (Not that the results have had *any* correlation with my hopes this year!)
Well, I think I want the Undead Poll winner to win it all!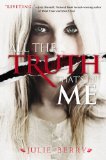 Mind you, I have no illusions that All the Truth That's in Me, the book I voted for, will win the poll.
But I think Eleanor & Park has a great chance, and I'm crazy-in-love with that book, so I hope it wins the whole thing!
And if the winner were Rose Under Fire or Midwinterblood, I'd be similarly enthusiastic. In fact, as long as I'm listing, these are the other books I'd like to win it all if they win the Undead Poll:
All the Truth That's in Me

Doll Bones
Far Far Away
However, if one of those books doesn't win the Undead Poll, then I'll whole-heartedly root for Boxers & Saints. How's that for being wishy-washy?
One thing's for sure: It's going to be fun to read the Big Kahuna Judge (Jennifer Holm)'s decision!