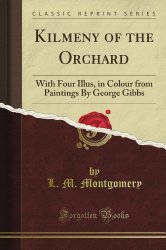 Kilmeny of the Orchard
by L. M. Montgomery
Bantam Books, New York, 1989. First published in 1910. 134 pages.
I turned 50 last month. As a way of celebrating, later in the year during the few weeks when all three of us are 50 years old, two childhood friends and I are hoping to visit Prince Edward Island. In preparation for that trip, and as part of my celebration, I thought I'd reread L. M. Montgomery's books. Update: The trip's not going to work out after all this year, but we're going to try to go before we turn 55. And it's still a good excuse to reread the books!
Kilmeny of the Orchard is actually the first novel Lucy Maud Montgomery wrote, though she didn't get it published until after her classic Anne of Green Gables was published and was immediately wildly popular. To be honest, as a writer it encouraged me greatly to learn this. If L. M. Montgomery's first effort was a masterpiece, well, then, who was I to think I could ever write anything?
Let's just say that after reading Kilmeny of the Orchard, I was not surprised to learn it was the author's first effort. A lovely first effort, yes, but not a masterpiece like her first published novel.
Kilmeny of the Orchard, like all but one of L. M. Montgomery's books, takes place on beautiful Prince Edward Island. It's a romance, simple and sweet. There is lots of flowery description and the young lovers are good and true and the story will make you happy.
Yes, the plot is highly unlikely. L. M. Montgomery used to find surprising stories in the news and then put them in your fiction — not realizing that fiction needs to be less surprising than truth in order to be believed. Worse, there's a villainous character who is clearly villainous because he's from "Italian peasant stock." And our heroine is essentially the most beautiful woman in the world, and innocent and sweet (even though she's lived away from people except her aunt and uncle and the villain all her life). The hero is handsome and smart and rich, but working as a schoolteacher to help a friend.
However, you still can see the seeds of L. M. Montgomery's greatness. She may overdo the description in this book, but she has a gift for it. And you can already see the quirky characters appearing whom she is so good at bringing to life.
All the same, this is the book that reassures me that L. M. Montgomery was human, too. She, too, had to work at her craft.
Find this review on Sonderbooks at: www.sonderbooks.com/Teens/kilmeny_of_the_orchard.html
Disclosure: I am an Amazon Affiliate, and will earn a small percentage if you order a book on Amazon after clicking through from my site.
Source: This review is based on my own copy, purchased years ago.
Disclaimer: I am a professional librarian, but I maintain my website and blogs on my own time. The views expressed are solely my own, and in no way represent the official views of my employer or of any committee or group of which I am part.
Please use the comments if you've read the book and want to discuss spoilers!