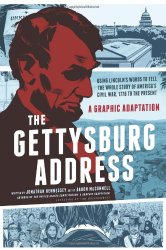 The Gettysburg Address
A Graphic Adaptation
Using Lincoln's Words to Tell the Whole Story of America's Civil War, 1776 to the Present
written by Jonathan Hennessey
art by Aaron McConnell
William Morrow, 2013. 222 pages.
Starred Review
History in comic book form – I still say it's an inspired idea if you want kids to pay attention.
You might wonder how anyone could put the Gettysburg Address into comic book form. Well, the subtitle explains what the author is trying to do: Not simply talk about the Gettysburg Address, but to use the Gettysburg Address to tell the whole story of America's Civil War, 1776 to the present.
So the story goes back to the Declaration of Independence, which is referred to in the phrase "Fourscore and seven years ago." Each section of the story is introduced by a phrase from the Gettysburg Address, with a picture of the words carved in stone on the walls of the Lincoln Memorial.
The story ends up being a sweeping one, with plenty of occasions for illustration. Even as an adult reading it, I gained a much deeper understanding of the Civil War by reading these pages. The author uses many quotations from speakers on opposites sides of the issues – and we see pictures of the people who spoke those words – far more memorable than ordinary quotes. And of course the battles have opportunity for even more "graphic" pictures.
This book is amazing in its scope and skillfully executed. It may create some young Civil War buffs. I certainly found it far more interesting than I expected it to be.
Find this review on Sonderbooks at: www.sonderbooks.com/Childrens_Nonfiction/gettysburg_address.html
Disclosure: I am an Amazon Affiliate, and will earn a small percentage if you order a book on Amazon after clicking through from my site.
Source: This review is based on a library book from Fairfax County Public Library.
Disclaimer: I am a professional librarian, but I maintain my website and blogs on my own time. The views expressed are solely my own, and in no way represent the official views of my employer or of any committee or group of which I am part.