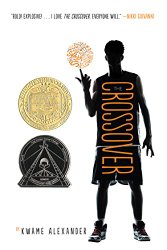 The Crossover
by Kwame Alexander
Houghton Mifflin Harcourt, Boston, 2014. 237 pages.
Starred Review
2015 Newbery Medal Winner
2015 Coretta Scott King Author Honor
2015 Capitol Choices Selection
I wrote this review before The Crossover won the Newbery Medal. I was already thinking it would be a perfect book to booktalk, since it's about basketball, is short, and has many passages that read aloud well.
Personally, I'm not a big fan of novels in verse, and I'm not a big fan of sports novels, but I couldn't help but like what Kwame Alexander has done here.
Twins Josh and Jordan Bell are the sons of a professional basketball player and the stars of their middle school basketball team. But disharmony comes between them when a girl falls for Jordan. Suddenly he's all about her and hardly thinking about basketball.
At the same time, their mother is worried about their father's heart, and Josh can tell he should be worried, too.
There's family drama and sports action in this book, but I also liked the poetry. It starts out with an onomatopoetic rap about the joy of playing basketball and continues with plenty of variety of form. It ends up being an entertaining and engaging way to tell the story from an articulate young man who also plays basketball.
Find this review on Sonderbooks at: www.sonderbooks.com/Childrens_Fiction/crossover.html
Disclosure: I am an Amazon Affiliate, and will earn a small percentage if you order a book on Amazon after clicking through from my site.
Source: This review is based on a library book from Fairfax County Public Library.
Disclaimer: I am a professional librarian, but I maintain my website and blogs on my own time. The views expressed are solely my own, and in no way represent the official views of my employer or of any committee or group of which I am part.
What did you think of this book?