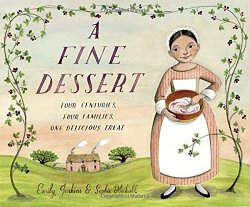 A Fine Dessert
Four Centuries,
Four Families,
One Delicious Treat
by Emily Jenkins
illustrated by Sophie Blackall
Schwartz & Wade Books, New York, 2015. 40 pages.
Starred Review
This book has a quiet cover that doesn't reach out and grab you, but if you open it up and start reading, it's wonderful on so many levels.
The subtitle tells you what's going on. This book looks at families from 1710, 1810, 1910, and 2010 – all preparing and enjoying the same dessert, Blackberry Fool. All the kids who help get to lick the bowl at the end.
The dessert is the same in each century. But how it is prepared is quite different. How do they get the blackberries? Pick or purchase? And where do they get the cream?
Whipping the cream changes completely each hundred years – first, a bundle of twigs, taking fifteen minutes, next a wire whisk, taking ten minutes, then cast-iron rotary beaters, taking five minutes, and finally an electric mixer, taking two minutes.
How they chill the dessert changes each century as well, as does the food they eat for supper before the fine dessert is served.
Another contrast is that it isn't until 2010 that a man and his son do the food preparation. In 1810, a slave girl and her mother do the work. But the daughter still gets to lick the bowl.
And at the end of each section, we've got the refrain: "What a fine dessert!"
This book is gently written, with wonderful detailed pictures. It is as irresistible as the fine dessert! The recipe for Blackberry Fool is at the end of the book.
Yes, I purchased blackberries and whipping cream when I went to the store this week, and last night I treated myself to Blackberry Fool! And yes, my hands turned purple when I pushed the fruit through the sieve. It would have been fun to do with a kid — but this way I get to lick the bowl myself. Indeed, it is a fine dessert. (In fact, after posting this review, I'm going to have to have a little more.)
emilyjenkins.com
sophieblackall.com
randomhousekids.com
Find this review on Sonderbooks at: www.sonderbooks.com/Picture_Books/fine_dessert.html
Disclosure: I am an Amazon Affiliate, and will earn a small percentage if you order a book on Amazon after clicking through from my site.
Source: This review is based on a library book from Fairfax County Public Library.
Disclaimer: I am a professional librarian, but I maintain my website and blogs on my own time. The views expressed are solely my own, and in no way represent the official views of my employer or of any committee or group of which I am part.
What did you think of this book?