This week I brought my camera to Crazy 8s Math Club! We were learning about Sets and Venn Diagrams – and look at those faces!
Crazy 8s is a Math Club sponsored by BedtimeMath.org. They provide the ideas and materials, and the library provides the place.
Here is a set of kids with brown eyes. We had a Flat Visitor from California who also had brown eyes!
When we started the 3-set Venn diagram, I thought they could start with cars and trucks. They caught on quickly!
And finally, a living Venn diagram. The kids figured out where they belonged depending on whether they had brown eyes or not, whether they could curl their tongue or not, and whether they fold their hands with their left or right thumb on top. I'm happy to say that the kids who didn't fit in any of those sets were excited to be "in the universe."
And afterward — some silliness with the glowsticks (which they got to take home).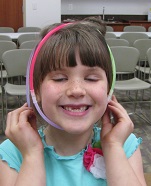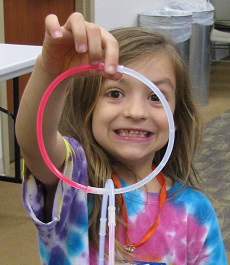 More proof that Math is Fun — and kids know it!