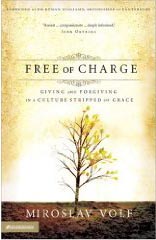 Free of Charge
Giving and Forgiving in a Culture Stripped of Grace
by Miroslav Volf
Zondervan, Grand Rapids, Michigan, 2005.  247 pages.
I've been reading lots of books lately about forgiveness, because it's an inexhaustible topic, and I find I desperately need it in my life these days.  I do believe that forgiveness is absolutely essential to happiness.
Miroslav Volf's book, Free of Charge, is more of an academic look at forgiveness and at giving.  He approaches giving and forgiving as our response to a giving and forgiving God, our obligation as God-followers.  Though his approach is a little more academic, it is nonetheless powerful, and perhaps that much more persuasive.
God's forgiveness is so amazing and unlimited, how can we do less and claim to be His children?
I found some wonderful quotations along the way, posted on Sonderquotes:
http://sonderbooks.com/sonderquotes/?s=volf
"God works against evil and suffering.  But God, in immense divine power and inscrutable divine wisdom, also works through evil and suffering."
Find this review on the main site at: www.sonderbooks.com/Nonfiction/free_of_charge.html